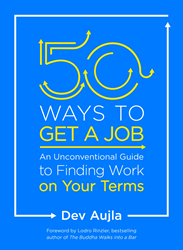 As a recruiter, I have sat with hundreds of individuals in the exact moment when they are looking for a job, uncertain and open to something new…this book was written for that moment. I want people to know that a job search can feel as rewarding as the perfect job itself
NEW YORK (PRWEB) April 03, 2018
Dev Aujla, CEO, author, and entrepreneur, released his 2nd book today, a compendium of unconventional tips to finding a job. The age-old advice for finding a job is pretty standard: Follow your passion. Network. Work on your resume. Apply to job boards. This classic advice hasn't changed since the 1970s, and it unfortunately promotes a process that can be tedious, demoralizing, and ineffective.
Grounded in three years of research, more than 3000 interviews, and $500,000 in funded research, Dev Aujla's 50 WAYS TO GET A JOB: An Unconventional Guide to Finding Work on Your Terms (TarcherPerigee; April 3, 2018; Paperback Original) takes a vastly different approach, one that gives readers back their agency, freedom from stress, and creativity. In a world of loose self-help concepts, Aujla offers a much-needed paradigm shift: instead of focusing on stability-based jobs, search for learning-based work.
"As a recruiter, I have sat with hundreds of individuals in the exact moment when they are looking for a job, uncertain and open to something new," said Dev Aujla, author. "This book was written for that moment. I want people to know that a job search can feel as rewarding as the perfect job itself—this guide helps you experience that."
Based on Aujla's wildly successful website of the same name, 50 WAYS TO GET A JOB, is an easy-to-follow, comprehensive guide for job seekers at every stage of their search. Filled with personal anecdotes, tips, and quick-step exercises ranging from the practical to the philosophical, 50 WAYS TO GET A JOB includes 50 exercises designed to help readers map out and conceptualize their career before they even start the job search process. The exercises are organized in specific stages that mimic the job search– from starting and finding your purpose all the way to interviewing and landing your dream job.
These short, quick, practical chapters are filled with untraditional tips that can help the process feel less overwhelming, such as:

Write fiction about yourself
Go to a job board…and then leave
Identify your 'just ahead' mentor
Trick yourself into budgeting, so you get comfortable with the amount of money you need and want from a job
And, yes, he does offer the 'magic bullet' email to a perspective employer, but you have to do the work in the book first to get to there
Whether you are actively looking for or a job or are seeking your next possibilities, 50 WAYS TO GET A JOB will calm your nerves and set you on a path of rigorous self-discovery, learning, and alignment on your truest next step.
The book can be purchased at http://50waystogetajob.com/page/the-book.
ABOUT THE AUTHOR
Dev Aujla is the CEO of Catalog, a recruiting and insight firm that has provided talent and high level strategy to some of the worlds most innovative companies including from BMW, GOOD Magazine, Change.org, and Planned Parenthood. He speaks regularly and blogs for outlets that include INC Magazine and Fast Company. His writing and work have been featured in dozens of media outlets including the New York Times, Glamour Magazine, MSNBC, CBC and The Globe and Mail.