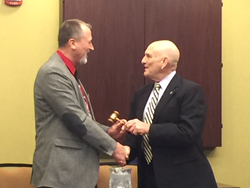 McCain said, "We are thankful for our Board leadership and all the time and expertise they have donated over the last few years. Goodwill was enriched tremendously by their participation and advocacy. Thank you all for everything you have done to support us!"
HAGERSTOWN, Md. (PRWEB) April 03, 2018
On Wednesday March 28, 2018 during the Board of Directors meeting, Horizon Goodwill Board Chair, Ron Bowers, handed over the gavel to incoming Board Chair, Bernard "Butch" Adams. Adams has been a member of the Board of Directors since 2013 and will now helm the Board for the next two years. CEO John McCain said, "The Board Chair is an important position in our organization because it requires an extensive time commitment and sensitivity to the people we serve. Butch has already been a tremendous asset to our organization. I know that his leadership will continue to provide significant wisdom and insight to the services that we provide here at Goodwill."
More about the new Board Chair: Adams is the Campus Director at the Pittsburgh Institute of Aeronautics training facility in Hagerstown. PIA offers a diploma and/or certificate program in aviation maintenance technology, graduates are eligible to test for their A&P certification when they come out, which allows them to become aircraft mechanics.
Adams is to replace Ron Bowers who will finish his term on the Board this year. William Valentine and Rebecca Fishack were also retiring members of the Board. McCain said, "We are thankful for our Board leadership and all the time and expertise they have donated over the last few years. Goodwill was enriched tremendously by their participation and advocacy. Thank you all for everything you have done to support us!"
Goodwill is also welcoming several new Board members: Heath Hykes, Sila Bartel, Dustin Watson and Heather Guessford.
About Horizon Goodwill: Goodwill has been rated #1 above the global brands Amazon and Google for the Brand World Value Rankings for 2016. Horizon Goodwill Industries, whose mission is "Removing Barriers, Creating Opportunities," is a non-profit organization dedicated to ensuring that all people have access to employment despite significant obstacles. Horizon Goodwill serves over 5,000 clients annually in a 17-county region that includes parts of the states of Maryland, Pennsylvania, Virginia, and West Virginia. For more information, please visit http://www.horizongoodwill.org
###