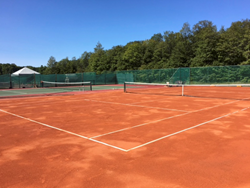 A simple hardcourt conversion process to RedClay pro at Boyne Mtn., MI
Hollywood, Florida (PRWEB) April 25, 2018
RedClay USA announces new RedClay™ tennis court installations at Florida, South Carolina, Michigan and New Jersey tennis facilities, all adding the new 2018 RedClay™ pro tennis court technology, as used at the WTA Porsche Grand Prix tournament in Stuttgart each year.
The proprietary RedClay™ courts function without the expensive maintenance or water costs that keep traditional clay courts mostly in private country clubs, unavailable to the general public and exposure to America's youth.
"This should be the biggest news in American tennis in the last 20 years," says Coach Jesse Smatt, former Junior coach of current U.S. Open Champion, Sloane Stephens.
Smatts' Tennis Academy of Hollywood, Florida is in the process of switching to the new RedClay™ which is easily and quickly done by applying the RedClay™ directly on top of existing hard or green clay courts.
"RedClay™ technology brings clay court tennis out of the country clubs because it's so cost effective and simple to now have at any club, indoors or out," says Coach Smatt.
In Sumter, South Carolina, Tennis Director Sam Kiser states, "Palmetto Tennis Center is excited to introduce RedClay™ tennis court technology to the Southern Section (USTA) of the US. Finally, technology brings clay court tennis, RedClay™ from Europe, that is affordable for public facilities."
RedClay™ technology is based on a permanently compacted, yet highly porous, crushed red clay sub-surface needing no daily maintenance, with a finely ground loose top layer. Any amount of rain flows down through all layers, eliminating the typical "clay court washouts" from heavy rain.
"RedClay™ technology allows us to train like they do in Europe, but also gets us back on the courts immediately after the rain stops," says Smatt.
"This is the one surface that's been missing from Junior development in the USA," says Smatt, who is also looking at locations in Puerto Rico to bring a new Smatts' Tennis Academy with RedClay™.
Palmetto Tennis Center, a 24-court municipal facility, is adding eight oversized RedClay™ courts, including what will be the first American RedClay Stadium Court. PTC are adding Junior, Adult, college and pro tour RedClay events to their annual tournament schedules.
A private Indian/American group in New Jersey is in the final stages to announce both indoor and outdoor RedClay™ courts to their new upcoming state-of-the-art tennis complex in central New Jersey.
Boyne Mountain Resort of Michigan, General Manager Ed Grice states, "Boyne Mountain is pleased to see the successful initial installation here by RCUSA. Plans are to add more and join the nationwide network of tennis facilities with the new RedClay™."
"With nationwide facilities adding our courts," RCUSA CEO Brian Osterberg states, "we all grow tennis through improved technology. As is demonstrated by our being the Porsche Grand Prix's choice, because Porsche can choose any court surface they please, of course."
The largest indoor women's event in the world, the Porsche Grand Prix offers a letter of recommendation from Tournament Director, Markus Gunthardt, for the RedClay™ pro court. See at RedClay USA's website.
Several other facilities in discussion with RCUSA include: Darling Tennis Center of Las Vegas; Grand Traverse Bay YMCA of Traverse City, Michigan.
RedClay™ pro courts are exclusively marketed jointly in the USA with partner Viacor/Porplastic GmbH of Germany.