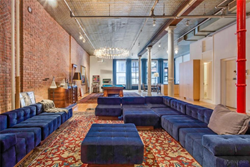 Where Real Estate Is Never Boring
POMPANO BEACH, Fla. (PRWEB) April 03, 2018
"Top 10 Real Estate News"
"Alex & Jennifer's Park Avenue Apartment"
Jennifer Lopez and Alex Rodriguez have gone all in paying $15.3 million for a new apartment at New York's 432 Park Avenue. The three-bedroom, half-floor residence with big Central Park views is in the city's latest hot spot setting record sales with its penthouses selling for $91 million and $60 million and many of the lower floors selling at about $20 million.
"Trump's Sister Sells Palm Beach House"
President Trump's sister, Maryanne Trump Barry, has sold her large Palm Beach West Indies-style home. She was asking $23.9 million for the 1950's eight-bedroom home. The President's other sister, Elizabeth Trump Grau, also owns a home in the same neighborhood.
"Eva's Hollywood Homes"
Eva Longoria is asking $3.795 million for her 8,603-square-foot Hollywood home that she bought in 2006 for $3.6 million. The home features six bedrooms on three floors, circular stairway, elaborate courtyard, outdoor kitchen, pool and spa. Eva is also hoping to get $14 million for a home in the Hollywood Hills that she bought in 2015 from Tom Cruise for $11.4 million. The Texas-born 'Desperate Housewives' and 'Devious Maids' star is expecting her first child in May.
"Tiger's Ex Selling Florida Beach Mansion"
Tiger Wood's ex-wife, Elin Nordegren, is selling her North Palm Beach home listed at $49.5 million. The 25,000-square-foot home was built in 2014, a few years after her $100 million divorce from Tiger, with 11 bedrooms and two floor-to-ceiling glass walls that fold open to bring in the ocean breezes.
"Harvey Weinstein Unloads More Real Estate"
Disgraced movie mogul Harvey Weinstein has been rapidly selling his real estate holdings following the recent headline sex abuse allegations against him and his bankruptcy. Earlier this year, Weinstein took a $1.4 million loss on his home in the Hamptons he unloaded for $10 million and sold two waterfront properties in Westport, Connecticut for $16 million. He just sold his Greenwich Village home for $25.6 million which he bought in 2006 for $14.95 million.
"Red Skelton's Horse Farm For Sale"
Red Skelton's 600-acre horse ranch in Riverside, California is for sale at $5.995 million. Horse facilities include a warehouse, hay barns, equipment barns, stallion stable, indoor and outdoor riding arenas and facilities for visiting horses, ten wells, walk-in shelters and multiple paddocks.
"Top 10 Expensive Countries"
No surprise that the top ten most expensive countries in the world have either the best beaches, the highest heating bills or they have so much money from oil that the only housing available is on the order of a palace. So people looking for another country and since shopping is so much cheaper in the U.S., be sure to stock up on bikinis, plenty of quilted down outerwear or bejeweled caftans. Anyone thinking of moving to Bermuda, Norway or Qatar, be sure to bring a fat wallet as it's going to cost up to 97% more than the U.S.
"Top 10 USA Small Towns"
Realtor.com analyzed home prices, unemployment figures, crime statistics and household spending to pick America's most affordable and liveable small towns. Dominated by Midwest towns, the #1 town is Logansport, Indiana with approximately 18,000 people located about halfway between Indianapolis and Chicago. The #2 town is Mexico, Missouri followed by Guymon, Oklahoma and Defiance, Ohio.
"Fort Lauderdale's Elbo Room"
One of Fort Lauderdale's longtime tourist attractions and late-night watering holes is in danger of closing. The Elbo Room, a dingy bar on the Fort Lauderdale Strip, may be headed toward closing time. It is part of a 4.46-acre collection of real estate that the owner is proposing for luxury condos and a hotel. The Elbo Room, located near a long stretch of Fort Lauderdale condos and hotels, became famous from the 1960 movie 'Where the Boys Are' which launched the beach town as one of America's most popular spring-break towns.
"John Mayer Grabs Adam Levine's House!"
Adam Levine has been active on the real estate front recently buying a 12,000-square-foot Beverly Hills mansion for $33.9 million, selling his New York City Soho home for $5.4 million and a Holmby Hills home for $18 million. Adam has now sold another Los Angels home, this one to fellow rock star John Mayer. The 7,100-square-foot, five-bedroom home on three acres with tennis court, seven baths, speakeasy-style bar and pool sold for $13.5 million.
Visit TopTenRealEstateDeals.com for more historic, spectacular and celebrity homes and real estate news.