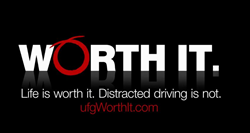 We hope that by conveying how much a person can lose by being distracted behind the wheel, it will make them think about what's 'worth it' before they drive distracted."
CEDAR RAPIDS, Iowa (PRWEB) April 03, 2018
United Fire Group, Inc. (UFG) continues to expand its distracted driving awareness campaign, Worth It, with new content for Distracted Driving Awareness Month.
"Worth It" was launched in September 2017 as a way to reach and engage a variety of audiences about the dangers of distracted driving. The goal of the program is to offer resources that companies, schools, and other organizations can use to spread the message that life is worth it, distracted driving is not.
Mike Sheeley, UFG corporate marketing director, says that while distracted driving issues are trending in the insurance industry, the program is about more than the bottom line.
"It's no surprise auto insurance rates are increasing due to the rise in distracted driving, but we see the importance of the program beyond that," said Sheeley. "Distracted driving is a societal issue that requires a change in thinking. We hope that by conveying how much a person can lose by being distracted behind the wheel, it will make them think about what's 'worth it' before they drive distracted."
The ufgworthit.com website houses resources to reach the general public, including students, insurance agents, and business owners, including:

Speakers
Online pledge
Research findings
PowerPoint presentations
Social media toolkit with sharable social media messages
Promotional items
Scholarship opportunity
To further promote Distracted Driving month, in April UFG will also be announcing the winners of five Worth It scholarships and will also feature a "30 Day Worth It Challenge" on its Facebook page, with facts, tips and more to help drivers break the habit of using their phones while driving.
Business owners, insurance agents and educators interested in booking a professional speaker or ordering promotional or marketing pieces are encouraged to contact UFG directly by phone at 855-876-3343 or email at worthit(at)unitedfiregroup.com.
About United Fire Group, Inc.
Founded in 1946 as United Fire & Casualty Company, UFG (Nasdaq: UFCS) is engaged in the business of writing property and casualty insurance through its insurance company subsidiaries. Headquartered in Cedar Rapids, Iowa, UFG is licensed as a property and casualty insurer in 46 states, plus the District of Columbia, and is represented by approximately 1,200 independent agencies. A.M. Best Company assigns a rating of "A" (Excellent) for the members of United Fire & Casualty Group. In addition to its Cedar Rapids office, UFG also operates regional offices in Arizona, California, Colorado, New Jersey and Texas. For more information, visit http://www.ufginsurance.com.