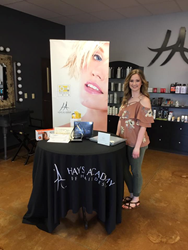 HAYS, Kan. (PRWEB) April 04, 2018
Hays Academy of Hair Design in Hays and Salina Kansas is proud to announce that Hays Campus student Rachel Amerin took second place in the Cosmetology category at the recent Nuts and Bolts International Business Student of the Year competition.
No one at Hays Academy is surprised. Rachel has always been the poster child for what Hays Academy most values in a student. She has had excellent attendance and a tremendous attitude toward her work, and she has fully embraced the school's culture.
Rachel quickly became one of Hays Academy's most requested cosmetology students, providing unmatchable service to every guest. A born leader, she was also an encouraging voice to students facing challenges. This kind of attitude depicts why Rachel is a natural representative for both Hays Academy and Nuts and Bolts.
About the Competition
Founded in 2003, Nuts and Bolts provides business education and training to cosmetology and esthetics students to help ensure their success after graduation. The annual Nuts and Bolts International Business Student of the Year competition rewards those who demonstrate excellent business savvy in such areas as overall customer service, up-selling, and average price per ticket.
About Hays Academy
Hays Academy of Hair Design in Kansas offers cosmetology and nail technician courses to prepare students for a successful career in the beauty industry. The school also offers salon services including haircuts, nail treatments, manicures, and waxing services.
Hays Academy has two campuses in Kansas:
Hays Academy - Hays Campus
1214 E 27th St, Hays, KS 67601
(785) 628-6624
Hays Academy - Salina Campus
115 S 5th St, Salina, KS 67401
(785) 833-2280
For more information, visit the website at https://haysacademy.edu/.