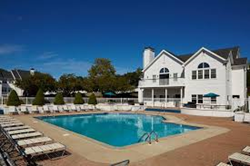 HARTFORD, Conn. (PRWEB) April 03, 2018
San Francisco-based real estate investment firm Hamilton Zanze (HZ) has acquired two Middletown, CT apartment communities - Middletown Ridge and Middletown Brook. The two properties, purchased from Fairfield Midtown Ridge LP and Fairfield Midtown Brooke LP, are the first acquired by HZ in the State of Connecticut. Middletown Ridge was purchased for $31.5 million and Middletown Brooke for $31.15 million.
"These two communities, just five minutes apart from each other, presented an opportunity to concurrently acquire two great assets in a stable market with strong cash flow," said David Nelson, managing director of acquisitions for Hamilton Zanze. "The acquisition of these properties provides a strong launching pad for us to continue to pursue our growth goals in the Northeast."
Built in 1988, Middletown Ridge is located at 100 Town Ridge Road and offers 238 1-,2-,and 3-bedroom units. It's 253,793 net leasable square feet were 95% occupied at the time of purchase. Middletown Brooke, located at 100 Town Brooke Road, was built in 1989 and includes 280 1- and 2-bedroom units. Its 227,242 net leasable square feet were also 95% occupied at the time of close.
The two apartment communities feature swimming pools, barbecue facilities, and fitness centers along with additional unique amenities like complimentary wifi, indoor racquetball, and a dog park. Hamilton Zanze will be executing more than $2 million of improvements to each community in the year ahead, on items such as parking lot re-paving, interior unit renovations, and addressing deferred maintenance.
Located in the in the Southeast Hartford/Middlesex County submarket of the Hartford area, Middletown is home to museums, cultural institutions and the renowned Wesleyan University. Nearby major employers and surrounding affluent neighborhoods with high barriers to homeownership support strong apartment demand, consistently healthy occupancy rates, and stable market growth.
To learn more about the Middletown Ridge and Middletown Brooke apartments, please visit http://www.middletownridge-apts.com and http://www.middletownbrooke-apts.com.