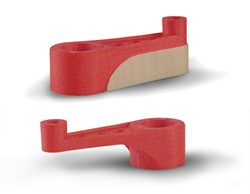 HydroFill is now compatible with a wider range of materials. It's also less sensitive to moisture and more stable at higher temperatures. What that means is overall improved performance when printing large, complex parts.
FOUNTAIN VALLEY, Calif. (PRWEB) April 04, 2018
Sometimes, even when it ain't broke, the team at Airwolf 3D still fixes it. Airwolf 3D, a 3D printer and filament manufacturer based in Southern California, today announces a new and improved version of its highly popular, patent-pending HydroFill Water-Soluble Support.
When HydroFill was released a little over a year ago, it made waves in the 3D printing industry because it was the first "universal" 3D printer filament to fully dissolve in water -- without the use of tools or any type of chemical solvents. It is also a green chemistry solution that is environmentally friendly and fully safe to wash down the drain.
Prior to the development of HydroFill, most 3D printer users were highly limited when it came to 3D printing certain types of designs because there were limited options available when it came to support material, or support structures. The most basic method of employing support is to use the same material that is used for the object being printed. With this technique, the support is erected similarly to scaffolding on a building and "props up" any steeply angled overhangs. Referred to as "breakable" support, this type of support is effective, but can be messy, time-consuming, and difficult to remove by mechanical breakage or trimming. It is not unusual to spend hours cleaning or cutting away support material from a 3D-printed object using razor blades, scalpels, sandpaper, and even power tools.
Some objects are even impossible to print because while the internal geometry of the part requires internal support, the outer portion of the enclosed design makes it extremely difficult, even impossible, to get inside the object in order to remove its internal support material. For years, people have tried to solve this problem with support structures that are supposed to dissolve in water or various chemicals. These products are messy and even dangerous -- plus, none of them have proven very successful.
"HydroFill proved itself as one of Airwolf 3D's most commercially successful products to date," stated company Co-Founder and CEO Erick Wolf. "Since the product's release last year, we received extensive feedback from customers and wanted to address one of their biggest requests: Make HydroFill compatible with more materials. So we went back to the drawing board and improved the formula. HydroFill is now compatible with a wider range of materials. It's also less sensitive to moisture and more stable at higher temperatures. What that means is overall improved performance when printing large, complex parts."
The most noticeable change to HydroFill's formula is that it effectively bonds to more materials. In addition to ABS and PLA, HydroFill is now compatible with most nylons on the market, including 910 Alloy, CARBONITE Nylon, and a new high-performance nylon coming soon from Airwolf 3D. While the new HydroFill formula is also compatible with most flexible materials, the company is still testing TPU and TPE for full compatibility certification.
The new HydroFill is also easier to use and store than its original formula. The reformulated support material is less prone to moisture and, while it still requires proper storage, HydroFill is now more forgiving if left exposed to open air for a longer period of time.
HydroFill Water Soluble Support is not only better, it also has gotten bigger too. In addition to its original 1-pound weight, HydroFill has been re-released in 2.2- and 5-pound rolls to accommodate extra-intricate or very large projects. The newly formulated HydroFill Water-Soluble Support is available from Airwolf 3D and its authorized resellers.
About Airwolf 3D
Airwolf 3D is committed to designing, manufacturing and selling 3D printers, 3D printer filament, 3D printing software, and 3D printing peripherals that are fast, affordable, durable and easy to use. Airwolf 3D has authorized dealers in more than 20 countries around the world. Manufactured in the company's 12,000 sq. ft. facility in Fountain Valley, California, all Airwolf 3D printers are delivered fully assembled and ready to print. Airwolf 3D machines are installed and field tested in Fortune 500 companies, engineering firms, government agencies and schools worldwide. For more information on the best 3D printer in its class, please contact Airwolf 3D at (949) 478-2933 or email info(at)airwolf3d(dot)com. Free demonstrations are available at the company's showroom located at 11208 Young River Avenue, Fountain Valley, CA 92708.