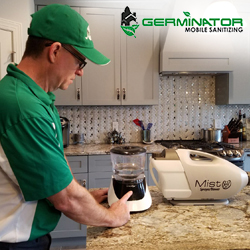 "Our new services really achieve impressive results. The most noticeable advantage that the new additions have is that they are fully mobile. Our technicians can apply them anywhere."
ATLANTA (PRWEB) April 03, 2018
Germinator Mobile Sanitizing is including three new state-of-the-art services for thorough sanitization: The Germovac, The Shield, and Genesis. The inclusion of these three new services is intended to broaden Germinator Mobile Sanitizing's action and reach in the sanitization industry.
The Germovac, the first of the three new additions, is a powerful UV-C light vacuum that eliminates 99.99% of harmful bacteria and viruses on contact and eliminates any debris left behind. The second breakthrough service, The Shield, is an antimicrobial barrier applied with an electrostatic sprayer that forms a molecular bond to surfaces, providing them with lasting protection against bacteria, germs, viruses, mold, and mildew. The Shield can be used on a variety of surfaces, from mattresses to showers. On surfaces that are exposed to moisture, this anti-microbial spray creates a hydrophobic barrier that allows it to stay in place for a long time while keeping mold and mildew at bay. Finally, the third and newest addition to Germinator Mobile Sanitizing's range of services is an organic disinfectant called Genesis. This is an electrolyzed cleaning compound with enhanced sanitizing power. A special device is used to decompose a cleaning compound into microns which are highly effective at getting rid of up to 99.9999% of harmful viruses and bacteria, giving their clients' property a new beginning free of germs.
One of the best attributes about the sanitizing services offered by Germinator Mobile Sanitizing is that nothing needs to be moved to use The Germovac, The Shield or Genesis, their organic disinfectant. This means that any type of commercial or residential locations can be serviced. Homes, hotels, hospitals, schools, senior care, and athletic facilities can benefit from Germinator Mobile Sanitizing's new services.
"Our new services really achieve impressive results. The most noticeable advantage that the new additions have is that they are fully mobile. Our technicians can apply them anywhere. Any item or location that is sanitized with them is virtually free from harmful allergens, viruses, and bacteria. This period of sanitization is extended when the Shield antimicrobial is used in conjunction with the Germovac or Genesis. All three of them are approved by the Environmental Protection Agency, and they all use state-of-the-art technology." stated Jeff Gill, CEO of The Germinator. Gill continued: "The most fulfilling aspect of our company is protecting our clients' health at all times. Just recently, our services helped to protect the health of a client who had recently contracted MRSA and was recovering from it. He was a heart patient and he was about to have heart surgery, so he needed a completely disinfected environment by the time he returned from surgery to avoid any reinfection that could complicate his health. We used our unique processes: The Germovac, The Shield and Genesis on his home, office, SUV, and his son's basement. They called us a few days after the surgery to tell us that it had gone well. They were really grateful with our team for helping to keep the health of this gentleman. The Germinator knows that good health is precious, and we are proud to help to protect it."
Germinator Mobile Sanitizing's equipment and anti-microbial systems are approved by EPA. This guarantees their effectivity in the control of pathogens for an extended period of time. Germinator Mobile Sanitizing's services are being requested in hotels, office buildings, and homes across Atlanta, for their excellent results and the kind customer service we provide. For the clients' comfort, the company also has a renewed, responsive website that contains blogs, videos, information about their services, and contact information.
Visit http://www.thegerminator.com, call 855-NO-GERMZ (664-3769), or fill out the contact us form on their website to learn more about the wonderful benefits of Germinator Mobile Sanitizing's services.