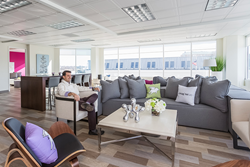 STAMFORD, Conn. (PRWEB) April 02, 2018
William Pitt and Julia B. Fee Sotheby's International Realty today announced a new facility devoted exclusively to elite real estate training, combining state-of-the-art technology with client-based hospitality education. Known as The Imagine Lab, the unique 3,000 square-foot training site is the first of its kind among all real estate firms in the market areas the company serves. The lab recently opened in the Harbor Point area of Stamford, Conn.
The Imagine Lab's primary purpose is to help real estate agents become exceptional professionals in the industry by learning the critical fundamentals of the business in a revolutionary new way. Designed by Beth Krupa, a three-time nationally awarded interior designer, the lab is crafted as an "office of the future" according to Chief Innovation Officer Lance Pendleton, presenting a home-like atmosphere with dynamic communal environments for creativity, focus and connection.
Spearheaded by Pendleton, the program is a comprehensive and intensive 90-day immersion, with real estate training courses available both onsite and remotely. Classes were developed to ensure an in-depth understanding of real estate sales skills, marketing, social media, customer service and sales psychology for new to business sales professionals. Agents work from the center while covering their respective communities for the duration of the program.
The Imagine Lab will host nationally renowned speakers and experts as part of the program, providing students with the opportunity to learn from and network with top experts and trendsetters in the industry. Through partnerships with smart home companies like Nest, Sonos, Amazon and more, agents will also have access to learning new technologies to better meet their clients' needs. Additionally, The Imagine Lab will offer education on interior design, home valuations and green home technology, and will even hold seminars open to the public to educate members of the community on trends in real estate.
"We are currently at a crossroads in the real estate industry, where agent and client needs have shifted," Pendleton said. "Our new facility offers a place where clients and agents alike can imagine what real estate should be, taking it far beyond the traditional models. Our goals with this innovative project are to service our sales professionals and the community to educate them and empower them to make better real estate decisions."
For more information on The Imagine Lab, visit the program's website - here.  
About William Pitt and Julia B. Fee Sotheby's International Realty
Founded in 1949, William Pitt and Julia B. Fee Sotheby's International Realty manages a $4.2-billion portfolio with more than 1,000 sales associates in 27 brokerages spanning Connecticut, Massachusetts, and Westchester County, New York. William Pitt and Julia B. Fee Sotheby's International Realty is the largest Sotheby's International Realty(R) affiliate globally and the 34th-largest real estate company by sales volume in the United States. A full-service real estate firm headquartered in Stamford, Connecticut, William Pitt and Julia B. Fee Sotheby's International Realty provides ancillary services including commercial services through its affiliation with Building and Land Technology, a second-generation development company based in Stamford, Connecticut; William Pitt Insurance Services; and an award-winning global relocation division. For more information, visit the website at williampitt.com.
Sotheby's International Realty's worldwide network includes more than 21,000 sales associates located in 930 offices throughout 69 countries and territories.