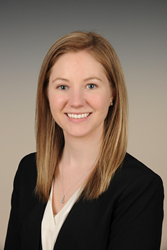 PHILADELPHIA (PRWEB) April 03, 2018
Intellectual property law firm Panitch Schwarze Belisario & Nadel LLP is pleased to announce that Megan Coyle, Ph.D. has joined the firm. Coyle is a scientific advisor with expertise in pharmaceutical and biotechnology. She provides technical support and scientific expertise and assists in conducting searches and reviews for due diligence, patentability and freedom to operate analyses, as well as preparation, filing, and prosecution of patent applications.
Prior to joining Panitch Schwarze, Coyle was a post-doctoral researcher at the Perelman School of Medicine, University of Pennsylvania where she studied the role of immune pathways in the progression of metabolic disease. During her graduate work at the University of Pennsylvania, she utilized genetic, molecular biology, and histochemical techniques to study the transcriptional regulation of immune pathways in adipose tissue.
Coyle has authored numerous research articles in such journals as EMBO Journal, Journal of Clinical Investigation, Diabetes, and Proceedings of the National Academy of Sciences. She also has presented scientific research at various conferences throughout the United States and Canada.
Coyle received her bachelor's degree, cum laude, in Biological Sciences from the University of Delaware, and a Ph.D. in Cell and Molecular Biology from the University of Pennsylvania.
About Panitch Schwarze Belisario & Nadel LLP – Panitch Schwarze Belisario & Nadel LLP is a boutique intellectual property law firm with offices in Philadelphia and Wilmington, Delaware. The firm's IP law practitioners provide strategic litigation, licensing and counseling service relating to patents, trademarks, copyrights and trade secrets, domain names and internet issues domestically and internationally. The firm's long-standing relationships with a network of associates worldwide enable its attorneys and advisors to provide clients with global intellectual property advice and protection.