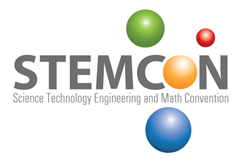 I really appreciate the opportunity to interact with people at different levels and sort of think about how all these pieces connect; so that as kids move up through school they're leaving with a really great STEM education." - Brittany Oliver, Fight for Children
CHICAGO (PRWEB) April 03, 2018
The official STEMCON (Science, Technology, Engineering and Mathematics Conference) schedule and speaker list has been announced online. Registration ends April 13, 2018.
STEMCON will be held at the Hyatt Regency O'Hare near downtown Chicago, 300 W Bryn Mawr Ave, Rosemont, IL 60018, on April 20, 2018 from 7:30 am - 4 pm.
Shaesta Waiz, Founder & Pilot Dreams Soar, Inc., is the official keynote speaker at the 5th Annual STEMCON. One of the featured presenters is The Renowned Dancing Scientist, as seen on network television shows and has more than four million YouTube views.
STEMCON will offer 56 breakout sessions and workshops from leaders in all areas of STEM education who are experts in evidence-based STEM teaching principles. Session topics include Thinking Forward, Project-Based Learning, STEM Education for STEM Careers, Outdoor Learning with STEM and Diversity in STEM Education.
STEMCON features diverse STEM educators and their best practices in educating diverse populations of students, including Damiso Josey, Assistant Principal of Adler Avenue Middle and Darlyne de Haan and Assistant Principal of Fernwood Middle presenting "Musical Pathways: How Hip Hop Music and Culture can Bridge the STEM Gap for Underrepresented Populations"; Robin White, Daya Hill, Lisa Mullins, and Michelle Walker from Pine Tree ISD presenting "Girls in Technology"; Jen Gutierrez, a member of the NGSS writing team and District XIV Director on NSTA's Council, will present "STEM for ALL Students: Addressing Diversity & Equity"; Shihadah Saleem from Intrepid Sea, Air & Space Museum, Carla Emanuele-Giza from the New York Academy of Sciences, and Yamilee Toussaint from STEM from Dance are presenting on "Innovative Ways to Sustain STEM Interests and Career Paths for Girls". Please check our website for our complete list of esteemed speakers.
Registration for STEMCON is currently open until April 13 at a cost of $225 per registration. Please contact STEMCON directly to take advantage of our group registration rate for five or more attendees from a school or district.
I really appreciate the opportunity to interact with people at different levels and sort of think about how all these pieces connect; so that as kids move up through school they're leaving with a really great STEM education," said Brittany Oliver, Fight for Children.
STEMCON's mission is to provide a practical professional development conference for K-12 STEM educators. STEMCON is a platform for STEM educators and administrators from all around the nation to collaborate, connect and to share their best practices.
For more information, visit http://www.stemcon.net, or the STEMCON YouTube channel for videos.
Contact kose(at)stemcon(dot)net, 847-227-9864.