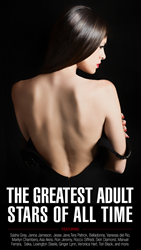 LOS ANGELES (PRWEB) April 09, 2018
The acclaimed documentary about the adult film stars and their entry into pop culture, "The Greatest Adult Stars of All Time," is now available for the first time on Video on Demand across many major platforms on April 10.
The documentary, which premiered on cable TV in 2015, will stream in the United States on VOD on Amazon, iTunes, Comcast, Verizon, Playstation, Vudu, YouTube, Dish Network, Cox, Fios, Mediacom, Insight, Atlantic Broadband Cable and many others. It is also available on VOD in Canada through Rogers On Demand, EastLinkTV and Shaw Communications. Gravitas Ventures, the distributor of the film, will also release it on DVD that day.
Adult film star Asa Akira, included in the documentary as one of the greatest adult stars of all-time and the documentary producer, AVN founder Paul Fishbein are both available for media interviews in conjunction with the VOD release. To request an interview email adella@forwardapproachmarketing.com.
"We're pleased to bring 'The Greatest Adult Stars of All Time' to a brand new audience on VOD and DVD," said Paul Fishbein, executive producer and writer of the documentary. "The film goes beyond the headlines and sensationalism and into the actual lives of the very real people who built the adult industry and influenced a significant segment of American culture."
The greatest adult stars of all time are revealed in this documentary. Interviews with all of the major adult stars from the last 50 years, combined with fascinating erotic film clips and a special emphasis on their influence on pop culture, make for a dazzling view into the erotic movie business and the personalities who shaped its history. Featuring Jenna Jameson, Ron Jeremy, jessica drake, Sasha Grey, Belladonna, Marilyn Chambers, Tera Patrick, Jamie Gillis, Skin Diamond, Misty Stone, Rocco Siffredi, Ginger Lynn, John C. Holmes, Nina Hartley, Lexington Steele and many more, with additional appearances by Whoopi Goldberg, Steven Soderbergh, Rob Zombie, Adam Rifkin and a host of adult stars, directors and trend-setters.
Keywords:
The Greatest Adult Stars of All Time, documentary, Paul Fishbein, adult industry, porn, history of porn, adult movies, pornography, adult content, Plausible Films, Video on Demand, VOD, distribution, Comcast, Dish Network, Cox, Fios, Amazon, Mediacom, Insight, Atlantic Broadband Cable, Rogers On Demand, EastLinkTV, Shaw, Asa Akira, April 10
About Plausible Films:
Plausible Films, LLC. (PFL) is an established television production company headquartered in Los Angeles, CA. The Company acquires, develops, produces, and distributes both short-form and long-form programs in the way of specials and series programming. PFL is the only independent studio which has successfully bridged the gap between mature content and the mainstream marketplace. The Company has quickly established its name with many of the top cable and satellite operators with its unique offering of custom created programs that serve specific marketing and promotional needs. Plausible Films programs are currently available to over 150 million households through cable television, IPTV (i.e. Internet TV), and online viewing throughout the United States, Europe, Canada, and South America. In addition, the Company has produced two major network documentary specials and created two television series currently running on the Showtime Network. For more information, visit http://www.PlausibleFilms.net.
Please direct all media requests for Asa Akira, Paul Fishbein or any adult industry personalities to adella(at)forwardapproachmarketing.com