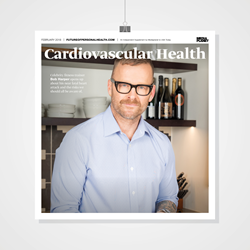 A doctor tried to perform CPR on me, and I had already turned blue," he recalls. "I had a heart attack and immediately went into cardiac arrest.
NEW YORK (PRWEB) April 02, 2018
Helping to conclude Heart Health Awareness Month, Mediaplanet announces the launch of this February's edition of "Cardiovascular Health." The campaign advocates for treatment and prevention of this deadly disease as well as increased education about how to better the lives of those living with cardiovascular diseases, their loved ones, healthcare professionals, and caregivers.
Heart disease causes one-quarter of all deaths in the United States today. Unfortunately, these numbers continue to rise each year despite preventative measures, proving that anyone can be at risk for cardiovascular health issues. This campaign is set to educate readers on the severity of a variety of heart conditions, warning signs they should be looking for and precautions they should take to decrease their risks. Furthermore, it stresses the importance to all of engaging in an ongoing dialogue with health care providers and leading a healthier lifestyle, from maintaining a heart-healthy, balanced diet to exercising daily.
The print component of "Cardiovascular Health" is distributed within USA Today in New York, Boson, Los Angeles, Dallas, Houston, New Orleans, Pittsburg, and Cleveland, with a circulation of approximately 250,000 copies and an estimated readership of 750,000. The digital component is distributed nationally, through a vast social media strategy and across a network of top news sites and partner outlets. To explore the digital version of the campaign, click here.
Long-time celebrity fitness trainer and author Bob Harper graces the cover of the print publication. Through an exclusive interview, Harper reveals that he suffered a near-fatal heart attack in April of 2017. "A doctor tried to perform CPR on me, and I had already turned blue," he recalls. "I had a heart attack and immediately went into cardiac arrest." Since then, he has fought tirelessly to raise awareness about heart health, educating people about the major risks that come along with cardiovascular disease.
This campaign was made possible with the support of Bob Harper, American Heart Association, National Stroke Association, Mended Little Hearts, Advanced Medical Technology Association, American College of Cardiology, American Society of Echocardiography, National Heart, Lung, Blood Institute, the Lipoprotein(a) Foundation, Adult Congenital Heart Association, Manhattan Cardiology, MYOMO (My Own Motion), Kowa Pharmaceuticals and Boehringer Ingelheim.
About Mediaplanet
Mediaplanet specializes in the creation of content marketing campaigns covering a variety of industries. We tell meaningful stories that educate our audience and position our clients as solution providers. Our unique ability to pair the right leaders with the right readers, through the right platforms, has made Mediaplanet a global content marketing powerhouse. Our award-winning stories have won the hearts of countless readers while serving as a valuable platform for brands and their missions. Just call us storytellers with a purpose. Please visit http://www.mediaplanet.com for more on who we are and what we do.
Press Contact:
Kaitlyn Eda
kaitlyn.eda@mediaplanet.com
(646)755-7955