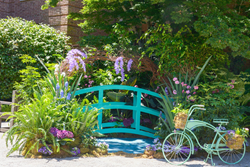 WOODSIDE, Calif. (PRWEB) April 03, 2018
Filoli today announced tickets are on sale for its 30th-annual Flower Show, "California Kaleidoscope," which will take place on the estate's historic property from May 31st through June 3rd. Filoli's three-day Flower Show will spotlight over 80 magnificent floral displays from a range of professional exhibitors and florists, including a breathtaking exposition of Ikebana designs by local artists who specialize in the unique Japanese floral art form. The 2018 Flower Show exhibitors include American Rhododendron Society, Beekeepers Guild of San Mateo, Peninsula Orchid Society and the Peninsula Rose Society, among many others. This year's Flower Show will also offer a Challenge Bouquet exhibit, featuring nine florists who use the same selection of flowers and blooms to create nine uniquely remarkable arrangements.
Ticket holders are invited to roam the historic rooms of the mansion while enjoying the marvelous arrangements and vignettes that incorporate the beautiful colors of California and a variety of floral design concepts. In addition, guests will be able to tour the exquisite gardens where colorful sculptures made by local glass artists will be on display as well as the Garden House, which will be transformed into a spectacular setting by distinguished Event Planner Robert Fountain.
During the afternoon portions of the Flower Show, Filoli will host color-filled Afternoon Teas in the Visitor and Education Center, inspired by their very-own garden's many colors. The Afternoon Teas will include a selection of delicious light bites along with refreshing beverages and Filoli's popular Rose Tea, served on china similar to that of the Bourn and Roth era in the early 20th century. The Afternoon Teas will be complemented by beautiful floral arrangements and live music from expert harpist, Erica Messer.
Opening Night
California Kaleidoscope will kick off with a special opening night on Thursday, May 31st, officially marking the beginning of Filoli's spectacular Summer Season. The opening night event will start with a glass of champagne and light hors d'oeuvres in the garden, accompanied by live music from tropical rock and country music band, Woody and the Longboards, featuring classic summer tunes from the Beach Boys and other iconic bands. Floral designers will be available at their displays to share insight and the creative vision behind their masterpieces.
Season Opening VIP tickets will be available at an additional price. The VIP experience includes an immersive behind-the-scenes tour for guests who are interested in learning specific details about the Show and historic house, unlimited beer and wine, a Filoli-curated gift and a private cocktail hour with light hors d'oeuvres before other guests arrive.
Tickets On Sale Today
Tickets for the Flower Show, Opening Night and the Afternoon Teas will be on sale starting today, April 3rd. Ticket prices are as follows:

Summer Opening Event - Thursday, May 31, 2018 - 6:30pm - 8:30pm - $65 members / $75 non-members
Summer Opening Event, VIP - Thursday, May 31, 2018 - 5:00pm - 8:30pm - $160 members / $185 non-members
Flower Show - Friday, June 1, 2018 - Sunday, June 3, 2018 - 10:00am - 5:00pm - $30 members (per day) / $35 non-members (per day)
Kaleidoscope of Color Tea - Friday, June 1 - Sunday, June 3, 2018 - 3:00pm - 5:00pm - $65 members / $75 non-members (private tables are available at an additional price)
To purchase tickets, please visit: https://filoli.org or call the Filoli Tickets Office at 650-364-8300 ext. 508. Tickets may also be purchased via email: tickets(at)filoli(dot)org.
For more information about The Flower Show, please visit: https://filoli.org/events/flower-show/
About Filoli: Located in Woodside, CA, Filoli boasts 654 acres of historic beauty nestled along the slopes of California's coastal range. The historic property features a 54,000+ square foot Georgian revival style mansion, 16 acres of exquisite English Renaissance gardens, a 6.8-acre Gentleman's Orchard, and a nature preserve with over 7 miles of hiking trails. Established as a private residence in 1917, Filoli was open to the public in 1976 as a 501(c)(3) nonprofit organization and site of the National Trust for Historic Preservation. Filoli is dedicated to the preservation and stewardship of the cultural traditions and is considered one of the finest remaining country estates of the 20th century.
Address:
Filoli Historic House and Garden
86 Cañada Road
Woodside, CA 94062
Media Contact: press(at)filoli(dot)org