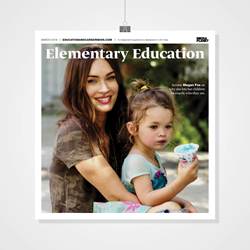 Much of my ego has been constructed around this idea that I'm not like most girls.
NEW YORK (PRWEB) April 02, 2018
Just in time for National Reading Month, Mediaplanet announces the launch of this March's edition of "Elementary Education." This campaign will highlight the necessary tools for elementary-level learning and emphasize how the implementation of technology in early learning for students can directly impact future success.
In today's hyper-connected atmosphere, children create, share, and consume digital content at rapid-fire rates. This not only affects their self-image and their peers' image of them but also creates a disconnect between how they're learning information recreationally versus how they're learning in school. With access to new tools in the technology sphere, educators and parents alike can help students to remove labels both in the classroom and at-home.
The print component of "Elementary Education" is distributed within USA Today in the New York, Los Angeles, Boston, Chicago, Baltimore/ D.C., San Francisco markets, with a circulation of approximately 250,000 copies and an estimated readership of 750,000. This print edition will also be present at industry conferences and events in 2018 that are education focused. The digital component is distributed nationally, through a vast social media strategy, and across a network of top news sites and partner outlets. To explore the digital version of the campaign, click here.
Devoted mother and non-gender binary play and learning advocate, Megan Fox graces the cover of the print publication. Through an exclusive interview on the interior, Megan reveals that growing up in the South, she was labeled a Tomboy. When her peers were playing dolls, she was playing outside, climbing trees and getting dirty. "Much of my ego has been constructed around this idea that I'm not like most girls," says the 31-year-old mother of three boys with husband Brian Austin Green, 44. Fox isn't into labeling herself or others, especially her children when it comes to playing, and to learning. The "Transformers" actress faced backlash in the press and on social media after her oldest son, Noah, now 5, was photographed wearing princess dresses. Now she speaks out tirelessly to support our children's learning - without barriers or labels.
This campaign was made possible with the support of Megan Fox, LeVar Burton, Houghton Mifflin Harcourt, Scholastic, Harvard Graduate School of Education, University of Virginia Curry School of Education, Cengage Learning/ National Geographic Learning, Learners Edge, AARP Foundation, Reading is Fundamental, Heifer International, The National PTA, International Society for Technology in Education (ISTE), Association for Supervision and Curriculum Development (ASCD), Texas Computer Education Association (TCEA), LeVar Burton Kids (Reading Rainbow), International Literacy Association, and Pencils of Promise.
About Mediaplanet
Mediaplanet specializes in the creation of content marketing campaigns covering a variety of industries. We tell meaningful stories that educate our audience and position our clients as solution providers. Our unique ability to pair the right leaders with the right readers, through the right platforms, has made Mediaplanet a global content marketing powerhouse. Our award-winning stories have won the hearts of countless readers while serving as a valuable platform for brands and their missions. Just call us storytellers with a purpose. Please visit http://www.mediaplanet.com for more on who we are and what we do.
Press Contact:
Caroline Trugman
caroline.trugman(at)mediaplanet.com
(845) 709 0275