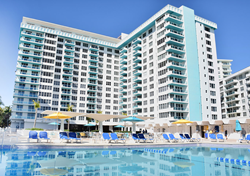 MIAMI (PRWEB) April 04, 2018
Designed by the famed Miami Beach architect, Morris Lapidus, Seacoast Suites, Miami Beach's oceanfront all-suite hotel, has unveiled the first phase of a series of property upgrades. Aimed to restore its original MiMo concept with a modern midcentury makeover, the renovations underscore Seacoast Suite's commitment to quality and convenience by enhancing the property experience for business and leisure travelers alike.
The project began with the opening of Brannard's Latin-International restaurant concept, Tropical Lounge, and new apartment-style units, which have been refurbished with modern furnishings, fixtures and appliances. After an expansive refresh of the public areas and recreational spaces, guests can now enjoy the cool breeze of the Atlantic Ocean from the comfort of a private beach, equipped with casual hammocks and updated volleyball nets. Other outdoor improvements include remodeled tennis courts and new pool tile and lighting, followed by an expansion of Tropical Lounge to the pool deck, where guests can leisurely dine and relax on brightly colored furniture in sync with the Miami Beach vibe. The pool deck renovations and tiki bar is expected to open within the next couple of months.
With a revived ambiance, Seacoast Suites will maintain its commitment to offer spacious, fully-equipped beachfront apartments at affordable prices, while effortlessly infusing a casual elegance synonymous with the Miami Beach lifestyle.
For reservations, please email reservations@seacoastsuites.com or call at +1 (305) 865 5152. For more information, please visit http://www.seacoastsuites.com/
About Seacoast Suites
Seacoast Suites is located on the world-renowned Miami Beach, minutes north of South Beach's famous night clubs, restaurants and shopping areas. With direct beach access, guests can enjoy Miami's famous white sand beaches, only steps away from their room. This Miami Beach hotel offers oceanfront hotel apartments, each with their own private balcony. For anyone searching for quality and spacious suites with a full kitchen and a view of the Atlantic Ocean or Biscayne Bay, this is the place for you. Amenities include a refreshing large oceanside pool, private beach-side area, fully equipped mini market, Latin-international cuisine restaurant, tennis courts, fitness center and mini spa access.