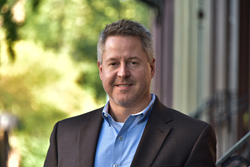 As the cybersecurity industry continues to lack the talent to fill an ever-growing demand, I am inspired by UAlbany's groundbreaking measures to arm our future workforce with the tools necessary to thrive in this era of cybercrime.
TROY, N.Y. (PRWEB) April 03, 2018
GreyCastle Security (greycastlesecurity.com) CEO Reg Harnish has been appointed to the Cybersecurity Advisory Board for the University at Albany (UALBANY), within the State University of New York's School of Business.
Harnish joins the esteemed 13-member group of Capital Region-area cybersecurity professionals who will work to advance the school's information security and digital forensics program through strategic guidance, networking opportunities for students, and research collaborations.
The board will support the initiatives of two School of Business grants. A $583,000 grant from the Department of Commerce and a $197,000 grant from National Institute of Science and Technology will support cyber innovation and economic development, as well as streamline educational programs in cyber security to match the needs of the regional industry, according to Sanjay Goel, the board's chair.
Harnish is an entrepreneur, author and speaker with more than two decades of experience working in the cybersecurity arena, with expertise ranging from risk management and incident response to regulatory compliance and awareness. He brings a thought-provoking perspective to the cybersecurity industry and strives to promote awareness, security "thinking" and practical application of security fundamentals. He will work alongside the other board members, including Chair Sanjay Goel, Simeon Ananou, Brian DePersisiis, George Hickman, Bernard Hillengas, Martin Manjak, Stephen Spano, Rob Zeglen, Matt Ammerman, Deborah Snydere, Joel Ryba and Teresa Zelinski.
Since its inception more than a half century ago, UAlbany's School of Business has been at the forefront of innovation – most recently evidenced by the implementation of its groundbreaking bachelor of science in digital forensics program, which is the first of its kind in New York State and one of only a handful of programs in the entire U.S. to offer the four-year undergraduate degree. The School of Business is also home to the New York State Business Plan competition, the largest collegiate business plan competition in the world, and plans to unveil a one-year MS program with tracks in cybersecurity and digital forensics.
"I am honored to join the talented members of this cybersecurity advisory board and look forward to advancing the business school's mission and vision," said Harnish. "As the cybersecurity industry continues to lack the talent to fill an ever-growing demand, I am inspired by UAlbany's groundbreaking measures to arm our future workforce with the tools necessary to thrive in this era of cybercrime."
As CEO of GreyCastle Security, a leading cybersecurity risk assessment, advisory and mitigation provider, Harnish has lead his firm through four consecutive years of triple-digit growth, and is currently working with organizations in nearly every state in the United States, including Fortune 5000 and Global 100 organizations. He is a frequent speaker and has presented at prominent events, including the ISACA North America CACS Conference, NYS Cyber Security Conference, the Rochester Security Summit, Security Education Conference Toronto (SecTor) and Symantec Vision. Additonally, Harnish is a fellow of the National Cybersecurity Institute, a cybersecurity educational institution located in Washington, DC. He serves on numerous security association boards and is currently an adviser to several educational institutions focused on cybersecurity.
About GreyCastle Security
GreyCastle Security is the industry's leading provider of cybersecurity risk assessment, advisory and mitigation services. The company was established to help organizations establish effective cybersecurity programs, minimize the impact of security incidents and simplify compliance. GreyCastle Security has clients throughout North America, specializing in cybersecurity for healthcare, higher education, financial services, technology and critical infrastructure.
GreyCastle Security's revolutionary approach to service delivery completely eliminates an organization's need to recruit and retain new cybersecurity personnel. Our award-winning cybersecurity programs are delivered continuously and managed proactively by certified experts, including risk assessment, awareness, vulnerability assessment, penetration testing and incident response.
GreyCastle Security is a subsidiary of Assured Information Security (AIS). For additional information regarding AIS, please visit http://www.ainfosec.com.
About University at Albany – State University of New York (SUNY)
Educationally and culturally, the University at Albany-SUNY puts "The World Within Reach" for its 18,000 students. An internationally recognized research university with 58 undergraduate majors and 128 graduate degree programs, UAlbany is a leader among all New York State colleges and universities in such diverse fields as public policy, nanotechnology and criminal justice. With a curriculum enhanced by 300 study-abroad opportunities, UAlbany launches great careers. For more information about this globally ranked University, visit http://www.albany.edu. For UAlbany's extensive roster of faculty experts, visit http://www.albany.edu/news/experts.shtml.