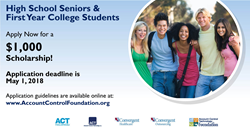 WOODLAND HILLS, Calif. (PRWEB) April 03, 2018
Account Control Technology Foundation (ACT Foundation), a non-profit, charitable foundation established by the founders of Account Control Technology Holdings, Inc., is now accepting applications for its annual scholarship programs, which provides $1,000 individual awards to students nationwide.
The ACT Foundation Second-Year Scholarship Program is for current college first-year students who plan to enroll as sophomores in a four-year college or university in the fall of 2018. A total of nine $1,000 scholarships will be awarded to students nationwide.
The ACT Cares Community Scholarship Program is for graduating high school seniors from specific communities who will attend a four-year college or university beginning in the fall of 2018. Applicants must be current seniors at high schools within select counties surrounding our ACT Holdings, Inc. offices. The locations and counties are as follows:

Atlanta, GA: Fulton & DeKalb County
Augusta, GA: Augusta-Richmond County, Columbia County, GA, Edgefield County, SC, Aiken County, SC
Bakersfield, CA: Kern County
Boca Raton, FL: Palm Beach County
Dallas, TX: Dallas, Denton and Collin Counties
Gainesville, VA: Prince William County
Houston, TX: Harris County, Montgomery County and Fort Bend County
Mason, OH: Butler, Clermont, Hamilton and Warren Counties
Montgomery, AL: Montgomery County
Peoria, IL: Peoria County
Phoenix, AZ: Maricopa County
Renton, WA: King County
San Angelo, TX: Tom Green County
San Antonio, TX: Bexar & Medina County
White Plains, NY: Westchester County
Woodland Hills, CA: Los Angeles County, Orange County
A total of sixteen $1,000 scholarships will be awarded.
The application deadline for both programs is May 1, 2018. The scholarship selection process will be administered independently by Scholarship America. Application guidelines are available at http://www.accountcontrolfoundation.org or for more information email actfoundation@scholarshipamerica.org.
In addition to providing information on its scholarship programs, the ACT Foundation website offers content and links to help students plan and pay for college, as well as gain tips to improve their financial wellness.
About the ACT Foundation
The Account Control Technology Foundation is a charitable organization established by ACT Holding's Founders, Dale and Debbie Van Dellen, with a stated mission "to improve the future of students and the greater community by offering financial literacy and debt management education, mentorship and support to those in need." For more information email visit http://www.accountcontrolfoundation.org
About Scholarship America
For nearly 60 years, Scholarship America has worked directly with students, parents, donors, colleges, businesses and communities to empower people to achieve their educational goals. As the nation's largest private education support organization, having distributed over $3.7 billion to more than 2.3 million students, Scholarship America is now working to further engage the private sector to support programs and policies that advance equity in postsecondary education and help students overcome barriers to access, persistence and attainment. More information is available at http://www.scholarshipamerica.org.