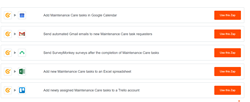 We want our CMMS system to be the best, which means making sure our customers can access the tools they love with our software," said Dan Roberge
CAMBRIDGE, Ontario (PRWEB) April 06, 2018
Maintenance Care, a leading provider of computerized maintenance management software (CMMS), announced today that it is expanding the capabilities of its system by partnering with Zapier, a web application integration company. Customers can use Zapier and Maintenance Care to perform multiple tasks across more than a thousand web applications.
Customers can now integrate Maintenance Care's CMMS software with platforms like Google, Microsoft, Survey Monkey, RingCentral and even YouTube. Examples of these integrations include:

Pairing Google Calendar to track assigned tasks for day-to-day operations
Adding to-dos from Maintenance Care's CMMS to Microsoft Excel sheets
Sending surveys through Survey Monkey once tasks are completed
Creating Invoices using Zoho once projects are finished
Sending SMS text messages for delayed projects using RingCentral
"We want our CMMS system to be the best, which means making sure our customers can access the tools they love with our software," said Dan Roberge, president of Maintenance Care. "When you are working in a lot of places, and with multiple tasks ranging from replacing a filter on an HVCA system to dismantling a boiler you need to be able to communicate with your team quickly and efficiently, this partnership enhances our already strong cross-team communication."
Maintenance Care and Zapier partnership is just another way the company has strived to provide its customers with greater functionality. Maintenance Care also offers a mobile app that gives customers full access to their CMMS platform, allowing them to manage work orders, schedule preventative maintenance, and create accurate capital planning reports.
Maintenance Care's Zapier partnership is invaluable to facility maintenance managers. As tools and applications continue to be designed and upgraded, facility managers need an easy way to integrate all of the tools they use for the most efficient work day. As applications continue to be created and implemented integration will be seamless making the day-to-day operations smooth.
To find out more information about Maintenance Care's free CMMS software platform, visit http://www.maintenancecare.com.