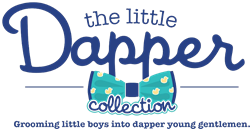 CHICAGO (PRWEB) April 03, 2018
The Little Dapper Collection, Chicago-based "fashion for a cause" company that creates handcrafted bow ties for infants, toddlers, and young boys, is proud to announce the launch of its national campaign, Breaking Barriers on Wednesday, April 4, 2018 for Children's National Day of Hope. Throughout the months of April, May and June, The Little Dapper Collection will join forces with Timeless Toys, Ltd., Chicago's neighborhood toy store providing educational and wooden toys, games, and classic fun for children and their families, to send 'Little Hero Boxes' to 50 children with disabilities in 50 states which will include: a Little Hero Certificate, a handcrafted bow-tie from The Little Dapper Collection, and a complimentary toy from Chicago's historic toy store, Timeless Toys, Ltd.
The purpose behind the Breaking Barriers campaign is to send a national message that children are all unique and special in their own way and that it is ok to embrace their differences and celebrate the things that makes them heroically unique. Breaking Barriers promotes the power of unity and inclusion for all children despite their differences and the unique challenges that make them feel different and/or set them apart.
"Who said that being different was a bad thing? Together The Little Dapper Collection and Timeless Toys, Ltd. are combatting the social stigmas that children with disabilities and their families are faced with and taking a global stance to say "We Love Being Different and Encourage Everyone to Embrace their Uniqueness," said Genesis Emery, founder and Creative Director of The Little Dapper Collection.
In honor of National Hope for Children Day, The Little Dapper Collection will launch the Breaking Barriers campaign giving away 1 complimentary 'Little Hero Box' to 1 child with a disability or illness in all 50 states across the U.S to celebrate children's differences and to give them a sense of hope and happiness. Each 'Little Hero' Box will arrive with a complimentary handcrafted bow tie from The Little Dapper Collection, along with a complimentary toy from its partner Timeless Toys, Ltd., and a special 'Little Hero' Certificate to recognize our brave little children who are facing special needs challenges and medical illnesses.
"When The Little Dapper Collection approached me about partnering with them on the Breaking Barriers campaign, I was deeply inspired to participate," said Scott Friedland. "I expressed immediately that I had many connections to this cause and could not be any happier to participate. I admire Genesis so much as an entrepreneur, philanthropist, and amazing mother to her son Noah. She is really trying to make a difference by breaking the stigma between a 'normal child' and a child with disabilities."
The Little Dapper Collection was inspired by Genesis Emery's first born, Noah, who suffers from a rare developmental disease called Rubinstein-Taybi Syndrome. After experiencing post-birth complications, her son spent his first two and a half months of life at Lurie Children's Hospital's NICU and has been hospitalized on several occasions afterwards, undergoing four surgeries before the age of 1. Through Emery's adversities, she came up with a fashionable concept that allowed her to share her story, educate parents, give back towards children-related causes, and motivate mothers (who are experiencing similar situations) through baby and toddler bow-ties.
The Little Dapper Collection continues to make a difference in the world, bringing awareness to children with differences, one bow-tie at a time. They continuously give 15% of purchase proceeds to children-related causes each month, reach out directly to mothers around the country to send free bow-ties to their sons who suffer from disabilities and rare diseases. In addition, The Little Dapper Collection have also given "Little HERO" bears to little boys who are currently in hospitals and orphanages in the Chicagoland and New York communities.
"Together, our goal is to promote positive change, inclusion, and unity for all children as we embrace the amazing things that make them Beautifully Different," said Emery.
To learn more about the Breaking Barriers campaign and/or The Little Dapper Collection, visit http://www.thelittledappercollection.com.
ABOUT THE LITTLE DAPPER COLLECTION
Founded in 2015, The Little Dapper Collection's mission is to is to groom little boys into dapper young gentlemen. This Chicago-based fashion company creates hand-crafted and custom-designed bow ties exclusively for infant, toddler, and boys, revolutionizing the way parents dress their children. The company pledges to donate 15% of its purchase proceeds to a rotating partnership of charities and give back to children with special needs and chronic medical illness through their philanthropic efforts. For more information, visit http://www.thelittledappercollection.com.
TIMELESS TOYS, LTD.
Founded in 1993 by former shopkeepers Harry and Martha Burrows, Timeless Toys, Ltd. offers creative play toys and nostalgic games, puzzles, puppets, dolls and accessories, books and so much more! Living and working in the heart of Lincoln Square, the Chicago couple wanted a toy store that would be an urban oasis for children and their families. Today, current shopkeeper Scott Friedland keeps this vision alive with his passion for toys and child development. To learn more, visit http://www.timelesstoyschicago.com.