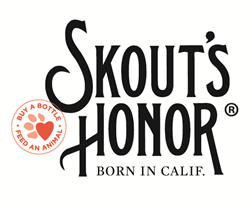 "By supplying these shelters with powerful green cleaning solutions, Skout's Honor is helping them create a comfortable and more ideal environment for volunteers and visitors who may be interested in pet adoption – which is our ultimate goal," said Elizabeth Asher, executive director for Rescue Bank
IRVINE, Calif. (PRWEB) April 04, 2018
Skout's Honor, the award-winning pet specialty brand that has become known for its environmentally and socially-conscious cleaning and grooming solutions, today announced that it will donate nearly 14,000 bottles of its Better, Faster, Stronger stain and odor products to animal shelters in need this Spring, via its ongoing partnership with Greater Good and Rescue Bank.
"Accessibility to cleaning products is absolutely essential for animal shelters, to ensure the cleanliness, safety and well-being of the animals who reside there, " said Elizabeth Asher, executive director, Rescue Bank Program of GreaterGood.org. "By supplying these shelters with powerful green cleaning solutions, Skout's Honor is helping them create a comfortable and more ideal environment for volunteers and visitors who may be interested in pet adoption – which is our ultimate goal."
Over the last six months, Skout's Honor has donated more than 29,000 bottles of its cleaning products to support the needs of rescues and shelters across the country. Last fall, the company supplied thousands of bottles of stain and odor products to facilities directly impacted by the hurricanes and fires in Texas, Florida and California. Products donated include Stain & Odor Remover, Urine Destroyer, Odor Eliminator, Litter Box Deodorizer, Patio Cleaner & Deodorizer and Cat Urine & Odor Destroyer.
In addition to its recent product donations, Skout's Honor has also generated more than 1.3 million meals to date for animals in need via its Skout's Paw Pledge program. This ongoing initiative, which is a core tenant of the brand, provides three meals for an animal in need with every Skout's Honor product sold.
About Rescue Bank
Rescue Bank operates on the national food bank model, serving community-based animal welfare groups that typically lack access to resources. Rescue Bank recognizes that these smaller, less-visible groups represent a substantial portion of America's animal rescue resource.
Rescue Bank works with name-brand suppliers to deliver donated pet food to serve both the ongoing needs of more than 1,800 animal welfare organizations and the immediate needs of communities after disasters such as Superstorm Sandy and, more recently, the Texas floods. Since establishing its national network in 2011, Rescue Bank has delivered more that 150 million meals of nutritious, wholesome pet food.
For more information visit http://rescuebank.org or find us on Facebook at facebook.com/RescueBank. Rescue Bank is a program of GreaterGood.org.
About GreaterGood.org
GreaterGood.org is a 501(c)(3) charitable organization that works to improve the health and well-being of people, pets, and the planet. It accomplishes this mission by partnering with charitable organizations and administering programs worldwide that address hunger and illness (particularly in women and children), promote education and literacy, feed and care for rescued animals in shelters and sanctuaries, and protect wildlife and restore the environment.
Since 2006, GreaterGood.org has worked with more than 150 charitable partners worldwide and created and operated several new programs including One Picture Saves a Life, Cats R Cool, and GROW. You can learn more about GreaterGood.org on our website or by following us on Facebook.
About Skout's Honor
Skout's Honor is an award-winning company based in Irvine, Calif. that offers BETTER, FASTER, STRONGER green cleaning solutions to everyday pet stain and odor problems and a patent-pending NEW line of Probiotic Skin Care/Grooming products for pets. Founded by a team of animal lovers and proud pet owners, the company created its "Skout's Paw Pledge," and donates a day's worth of food for a shelter animal in need with every product sold. For more information on the products and for specific retailers, please visit SkoutsHonor.com