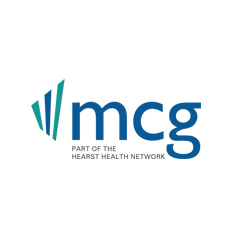 I will discuss how evidence-based guidelines can inform the complete arc of patient care.
SEATTLE and HOUSTON (PRWEB) April 10, 2018
MCG, part of the Hearst Health network and a leading provider of informed care strategies, announces Monique Yohanan, MD, MPH, will be a speaker at the 2018 ACMA National Conference in Houston, Texas on April 26, 2018, at the George R. Brown Convention Center. Dr. Yohanan will discuss how evidence-based care guidance can support hospital and health plan case managers as they address the U.S. opioid addiction crisis. Dr. Yohanan brings an extensive clinical background encompassing psychiatry and internal medicine in her role as a State Government Relations Director and behavioral health expert at MCG Health.
"This crisis has caused more than 165,000 overdose deaths from prescription opioids since 1999," said Dr. Yohanan. "In addition, health and societal costs related to prescription opioid abuse have been estimated at over $55 billion annually. Up until recently, there has been a lack of comprehensive guidance addressing chronic opioid use across a patient's entire care journey and which can offer solutions to address its root cause systematically. In my session at the ACMA National Conference, I will discuss how evidence-based guidelines can inform the complete arc of patient care."
The ACMA National Conference is an annual event bringing together case management professionals to discuss new ideas and innovative strategies for improving healthcare efficiency and quality. "This event is specifically for those individuals who are driving positive changes and implementing the highest standards of care across the continuum," said Dr. Yohanan. "The ACMA National Conference provides many educational sessions tailored for those working in the case management field."
Dr. Yohanan's speaking session at the event will run 10:45 a.m. to 11:45 a.m. on Thursday, April 26, 2018. To learn more and register for this event, visit the ACMA conference website at http://www.casemanagementconference.com.
About ACMA
Founded in 1999, the American Case Management Association (ACMA) is a national, non-profit, professional membership association, which strives to provide resources, solutions and support for Case Management and Transitions of Care professionals. ACMA is comprised of more than 8,000 members nationwide, including nurses, social workers, physicians and other professionals affiliated with case management. Through a variety of educational conferences and networking events at both the state and national level, ACMA provides its members with numerous opportunities to develop their skills, grow in their profession and learn from the experiences and practices of fellow members. For more information, visit http://www.acmaweb.org.
About MCG
MCG, part of the Hearst Health network, helps healthcare organizations implement informed care strategies that proactively and efficiently move people toward health. MCG's transparent assessment of the latest research and scholarly articles, along with our own data analysis, gives patients, providers and payers the vetted information they need to feel confident in every care decision, in every moment. For more information visit http://www.mcg.com or follow our Twitter handle at @MCG_Health.
About Hearst Health
The Hearst Health network includes FDB (First Databank), Zynx Health, MCG, Homecare Homebase, MedHOK, Hearst Health Ventures and the Hearst Health Innovation Lab (http://www.hearsthealth.com). Hearst also holds a minority interest in the precision medicine and oncology analytics company M2Gen. The mission of Hearst Health is to help guide the most important care moments by delivering vital information into the hands of everyone who touches a person's health journey. Each year in the U.S., care guidance from Hearst Health reaches 85 percent of discharged patients, 205 million insured individuals, 70 million home health visits and 3.2 billion dispensed prescriptions.
Contact
Arri Burgess
MCG Health
Tel: 206 389 5405
Arri.Burgess(at)mcg(dot)com