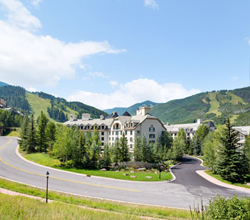 DENVER and BEAVER CREEK, Colo. (PRWEB) April 04, 2018
Hyatt Regency Denver at Colorado Convention Center, Grand Hyatt Denver and Park Hyatt Beaver Creek Resort and Spa are pleased to present the Pick a Freebie Meeting Package. This exclusive offer allows meeting planners with conferences that take place during 2018 a choice of one of the following popular inclusions: Complimentary coffee at conference breaks or free general session WiFi. Meetings must be confirmed to take place on or before December 31, 2018 using offer code: FREEBIE. (At Grand Hyatt Denver and Hyatt Regency Denver, conferences must occupy 50 paid rooms on peak night. At Park Hyatt Beaver Creek, conferences must occupy ten paid rooms on peak night. Offer is subject to availability; restrictions may apply.)
The Pick a Freebie Meeting Package is a complement to the extensive and varied meeting options these Colorado hotels provide. From large ballrooms that can accommodate up to 2,200 people set theatre style at Hyatt Regency Denver, to the renowned 38th floor Pinnacle Club with its panoramic views of the Rocky Mountain front range, to the chateau-style Park Hyatt Beaver Creek, the centerpiece of this mountainside village, meeting planners are certain to find what they are looking for at these award-winning properties.
To book the Pick a Freebie Meeting Package, contact the Hyatt Denver Sales office at (303) 486-4400 or e-mail dencc.rfp@hyatt.com. For Park Hyatt Beaver Creek, call (970) 827-6521. Offer is subject to availability and restrictions may apply. For additional details visit the Meetings and Events page of Denver.Regency.Hyatt.com, Denver.Grand.Hyatt.com or BeaverCreek.Park.Hyatt.com.
About Hyatt Hotels in Denver Downtown
Hyatt Hotels in Denver Downtown are comprised of two award winning properties in the heart of the Mile High City. They are located two blocks apart, one block on either side of the 16th Street Mall. Hyatt Regency Denver at Colorado Convention Center is one of the region's largest hotels. Towering 37 stories high, sleek and contemporary in design, it offers 1,100 refreshed guest rooms adjacent to the Colorado Convention Center. Hyatt Regency Denver features 60,600 square feet of versatile meeting and event space, including two large ballrooms. Altitude Restaurant and Strata Bar are conveniently located on the lobby level. Peaks Lounge on the 27th floor is known for its views of the Mile High City and surrounding Colorado mountains.
The 516 room Grand Hyatt Denver boasts 52,600 square feet of event space, including the renowned 38th floor Pinnacle Club, overlooking the Rocky Mountain Front Range. The brand new restaurant, Courier Market | Bar | Kitchen offers an eclectic selection of fare in a bustling, newsroom themed space where guests can meet, eat and chat.
About Park Hyatt Beaver Creek Resort and Spa
A resort for all seasons, located mountainside in the heart of Beaver Creek Village, Park Hyatt Beaver Creek Resort and Spa provides guests unprecedented access to some of the best mountain activities in the world. The 190-room resort with 20,000 square feet of event space offers true ski-in, ski-out access and is just steps away from the resort's many shops, restaurants, cultural attractions and outdoor adventure activities that facilitate memorable year around experiences. The property is serviced from Eagle Vail Airport with non-stop flights from 11 U.S. cities via American Airlines, Delta Airlines, Air Canada and United Airlines, and offers many connections to worldwide destinations from Denver International Airport depending on the season. The resort's 30,000 square foot Allegria Spa features 23 treatment rooms with a full-service fitness center, slope side pool and hot tubs. The hotel's three on-property dining experiences include 8100 Mountainside Bar & Grill, Café, Antler Hall and Powder 8.
All three Colorado Hyatt Hotels offer free guest room high-speed Internet access and a host of amenities that provide ease and comfort for their guests and are the recipients of Trip Advisor's Certificate of Excellence. Hotel room reservations may be made by calling toll-free 800-233-1234.
# # # #
Terms and Conditions:
Pick a Freebie Meeting Package is an exclusive offer and is subject to availability. Qualifying meetings must be take place at Grand Hyatt Denver, Hyatt Regency Denver at Colorado Convention Center or Park Hyatt Beaver Creek before December 31, 2018. At Grand Hyatt Denver and Hyatt Regency Denver, the qualifying meeting must have a minimum of at least 50 paid rooms on peak night; at Park Hyatt Beaver Creek, the minimum number of paid occupied rooms required on peak night is ten. The meeting planner may choose only one offer per meeting booked: Complimentary coffee for refreshment breaks of 100 people or more (50 or more people for Park Hyatt Beaver Creek) or free general session WiFi. Rate limit of two MB/s. This offer does not include wired connectivity, dedicated bandwidth, custom VLANs and custom splash pages. Inclusions must coincide with meeting. No substitutions or replacement services for products offered as offer inclusions. Pick a Freebie Meeting Package is not valid for meetings or events that have already been contracted. When booking, enter or ask for FREEBIE. Offer must be requested prior to finalization of contract and redeemed at time of booking. Promotional blackout periods may apply due to seasonal periods or special events. A sales contract is required. This offer cannot be combined with any other offer. Hyatt reserves the right to alter or withdraw this offer at any time.