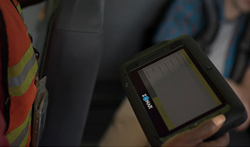 We want to make sure bus drivers and school officials have an easy way to help ensure that no student is ever left on the bus – after all, their top concern is to keep the children in their care safe
SEATTLE (PRWEB) April 03, 2018
Zonar, the leader in smart fleet management technology, today announced an agreement with Child Check-Mate System to sell the company's technology and integrate it with Zonar's fleet management solutions. School district fleets may leverage this technology to be compliant with the Paul Lee School Bus Safety Law, which requires busing fleets to be equipped with a child safety alert system to help ensure all students have exited the bus. As part of the agreement, Zonar will offer an option to integrate the Child Check-Mate System into its ZAlerts and Electronic Verified Inspection Reporting (EVIR®) software, providing an extra layer of safety by creating digital recordings of missed inspections and sending real-time alerts to notify dispatch of issues.
"We want to make sure bus drivers and school officials have an easy way to help ensure that no student is ever left on the bus – after all, their top concern is to keep the children in their care safe," said H. Kevin Mest, senior vice president of passenger services at Zonar Systems. "In addition to selling the Child Check-Mate System on its own, using the technology with Zonar's ZAlerts builds on the intent of the law by sending real-time alerts to management when child checks fail to happen, creating another way to help make sure your kid gets home safe."
Digital alerts are important because there are incidents where an alarm sounds in a large bus yard or parked at a driver's home or a satellite terminal/parkout without supervisory personnel present to hear the alarm. A ZAlert ensures a notification is sent to dispatch when an alarm goes off, identifying exactly which bus was not properly checked and showing its current location. The digital recording of incidents can also be used by school bus fleet managers to track how often incidents occur, identify trends and coach drivers towards better safety practices.
"More than 20 million students ride school buses each year and our goal is to make sure no child gets left behind on a vehicle," said Brad Both, CEO of, Child Check-Mate System. "When paired together, our solutions are not only easy to implement and use, but help school drivers and fleet managers prevent these types of incidents and even increase their standards of safety and general practices."
The Paul Lee School Bus Safety Law was established in recognition of a Whittier student who passed away after being left unattended on a school bus for several hours. Under the new law, schools are required to equip all buses with a child safety alert system to ensure all students have exited the bus upon ride completion. Drivers must manually contact or scan the device at the interior back of the bus to confirm the completed visual inspection before leaving the vehicle unattended after each route. School bus drivers will also be required to complete annual inspection training to receive their renewed safety certificates.
About Zonar
Founded in 2001, Zonar has pioneered smart fleet management solutions throughout vocational, pupil, mass transit and commercial trucking industries. Zonar helps fleets of all sizes maximize the use of their assets with solutions dedicated to improving compliance, efficiency, maintenance, ridership visibility, safety and tracking. Cloud-based services with open API's drive Zonar's smart fleet solutions by making it easy for fleet owners and managers to stay connected to their fleets and drivers and operators to dispatch. Headquartered in Seattle and majority-owned by technology company Continental, Zonar also has a Technology Development Center in downtown Seattle, a regional office in Cincinnati, and a distribution center outside of Atlanta. For more information about Zonar, go to http://www.zonarsystems.com.
Child Check-Mate System, Inc.
Child Check-Mate System is a Canadian school bus safety Company who has developed and patented a unique alarm system which acts as an electronic reminder to drivers. This reminder helps ensure that all children have safely disembarked the vehicle upon the completion of each run. The system was designed "by drivers for drivers". It was the collaborative efforts of these drivers, a concerned operator, and talented bus mechanic which made the idea a reality. Since 1993 the Child Check-Mate System continues to endure some of North America's harshest weather conditions; proving itself both as a reliable investment to operators and as an extremely valuable safety aid to the drivers who use it. For more information, visit http://www.childcheckmate.com.