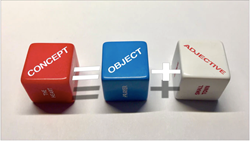 "The hardest part of writing poetry is getting started. Metaphor Dice make it hard to stop." —Brendan Constantine, Poet/Teacher
BROOKLYN, N.Y. (PRWEB) April 03, 2018
Metaphor Dice has launched on crowd-funding site Kickstarter. Starting from $19 for the early bird special, Metaphor Dice is the easiest way to teach students of all ages how to create metaphors and write poetry. It is the brainchild of world renowned poet and teacher, Taylor Mali, who has been teaching students how to explore their inner poet for over 25 years.
"Teachers who have used the dice in their classes (including me) report that the dice bring an enthusiasm to the writing of poetry that they have seldom seen before. I may soon be out of a job," Mali says.
A complete set of Metaphor Dice is four red, four white, and four blue, for a total of 12 dice. The basic idea is that you roll at least one of each color, arrange them in order—red, white, and blue—and read the resulting metaphor aloud, supplying whatever smaller linking or auxiliary words you want. With an overhead projector a teacher might need only one set for an entire class. Once the class agrees on a single metaphor to use, everyone writes for a few minutes, thinking of ways they might apply the metaphor to their own life. At the very least, everyone should try to "justify" the metaphor by sort of restating in an artful way! When each student then shares a line—and you continue going around until everyone has read everything they care to share—everyone will be amazed at how many different ways a metaphor can be interpreted. And they will want to roll again!
"As a master teacher with more than four decades in the classroom, I find that Metaphor Dice speak to the heart of humanistic education — interactive, thought-provoking, and just fun!" says Dr. Joseph D'Angelo, a 40+ year master English teacher
"We're told that a metaphor is a way of comparing two things, but that's not the whole story nor does it speak to why and how we use metaphors, which is essentially to SAY one thing but MEAN another." from creator Taylor Mali
What's in the box? Four red dice with 24 different CONCEPTS, four white dice with 24 ADJECTIVES, and four blue dice with 24 OBJECTS. Choosing one of each and combining them can create a total of 13,824 unique metaphors!
Editor's notes:
The Kickstarter Campaign can be found HERE
For more information on Taylor, please visit Taylor Mali's website HERE
Taylor Mali is one of the most well-known poets to have emerged from the poetry slam movement and one of the original poets to appear on the HBO series "Def Poetry Jam." A four-time National Poetry Slam champion, he is the author of four collections of poetry and a book of essays, "What Teachers Make: In Praise of the Greatest Job in the World." In April of 2012, Mali donated 12 inches of his hair to the American Cancer Society. Mali has been credited with convincing over 1,000 people to become teachers. He lives in Brooklyn where he is the founding curator of the Page Meets Stage reading series at the Bowery Poetry Club.
PR Contact:
Twitter: @MetaphorDice
Email: info(at)metaphordice.com