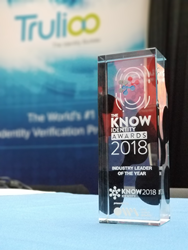 "I am truly honored and humbled to be recognized among such a distinguished group of innovators and leaders in the identity space," said Stephen Ufford, CEO of Trulioo.
VANCOUVER, B.C. (PRWEB) April 04, 2018
Trulioo, the leading global identity verification provider, is delighted to announce that its CEO and founder, Stephen Ufford, has been named Industry Leader of the Year at the KNOW Identity Conference 2018, hosted by OWI.
The Industry Leader of the Year award is presented to the person who made the greatest impact on the identity community through academic, business or thought-leadership contributions.
In its second year, the KNOW Identity Conference provided a forum for industry experts across all industries to be at the nexus of ideas and policies that will fundamentally change identity around the world. Attendees dove into critical topics such as government policy, blockchain, cybersecurity, identity access management, trust and safety, fraud prevention and identity verification.
"I am truly honored and humbled to be recognized among such a distinguished group of innovators and leaders in the identity space," said Stephen Ufford, CEO of Trulioo. "By bringing together changemakers and influencers, the KNOW Identity Conference is fostering an environment in which we can work together to solve today's identity challenges – and the challenges of the future."
The three-day event was held in Washington D.C. with a lineup of more than 200 notable speakers, including Nick Shapiro, Global Head of Trust and Risk Management at Airbnb, Chairman of Digital Money Forum and Digital Identity Forum David Birch, Chairman of the Open Identity Exchange (OIX) Don Thibeau, entrepreneur and author Scott Galloway, and many more.
"Over the past year, Stephen has effectively leveled up the entire community through his thought leadership and business contributions, specifically in mobile identity and KYB compliance," said Travis Jarae, founder and CEO of OWI.
Last week, OWI announced that the KNOW Identity conference will be held in two separate locations – Las Vegas in the spring, and Washington D.C. in the fall.
About Trulioo
Trulioo is a global identity and business verification company that provides secure access to reliable, independent, and trusted data sources (including Mobile Networking Operators) worldwide, to instantly verify consumers and businesses online. Trulioo's bank-grade online verification platform, GlobalGateway, helps organizations comply with Anti-Money Laundering (AML) and Customer Due Diligence (CDD) requirements by automating Know Your Customer (KYC) and Know Your Business (KYB) workflows. Trulioo's solution leverages Optical Character Recognition and Natural Language Processing, and Artificial Intelligence technology to provide a reliable and trustworthy way for clients to evaluate new and existing customers and business entities in real-time. Trulioo supports over 500 global clients to instantly verify 4.5 billion customers and 250 million business entities in over 100 countries - all through a single API integration. Named as a 2017 CNBC Disruptor 50 Company, Trulioo's mission is to solve global problems associated with verifying identities by powering fraud prevention and compliance systems for customers worldwide in an effort to increase trust and safety online. For more information visit http://www.trulioo.com.
About the KNOW Identity Conference
The premier global event for the identity industry, the KNOW Identity Conference is the nexus for identity innovation, offering a uniquely differentiated, powerful, and immersive event that convenes the world's most influential organizations and smartest minds across industries to shape the future of identity. With 1,000+ attendees, 300+ organizations, 100+ speakers, and 30+ countries represented, the conference is designed to spark innovation by facilitating conversations between people from different backgrounds and organizations of all size. The KNOW Identity Conference will be held March 26-28, 2018 at the Ronald Reagan Building and International Trade Center in Washington, D.C.