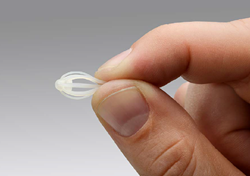 "Nasal polyps are one of the most persistent and troublesome conditions that we see in our practice," said Dr. Sigari. "We are proud to offer this new, advanced and effective treatment choice for patients who have chronic nasal polyps."
MARINA DEL REY, Calif. (PRWEB) April 03, 2018
Farhad Sigari, MD, FACS, founder of Del Rey Sinus & Allergy Institute and a leading ear nose and throat (ENT) doctor, has performed the first implant in Southern California, and one of few in the United States, of the new Sinuva sinus device. Approved by the U.S. Food and Drug Administration in December, 2017, Intersect ENT's Sinuva implant is designed to treat recurring nasal polyps in adults who have had prior ethmoid sinus surgery (ESS).
"Nasal polyps are one of the most persistent and troublesome conditions that we see in our practice," said Dr. Sigari, a board-certified otolaryngologist. "Even when we surgically remove nasal polyps and the patient exercises ongoing care using steroid sprays or pills, they can return time and again. We are proud to offer this new, advanced and effective treatment choice for patients who have chronic nasal polyps."
Nasal polyps are noncancerous, inflammatory growths along the lining of the nasal passages. These growths may cause life-affecting symptoms including nasal discharge, congestion, facial pain, and a loss of sense of smell. Many people return to their sinus doctor with recurring polyps even after undergoing previous ethmoid sinus surgery. The Sinuva device is placed during a routine office visit and delivers steroid medication directly to the sinus for up to 90 days. As medication is absorbed, the Sinuva implant softens and may be easily removed.
The first patient treated by Del Rey Sinus & Allergy Institute is a 53-year-old male who has had several previous sinus procedures, but had recurrence of difficult-to-treat polyps. Dr. Sigari notes that the implant was inserted easily and without complications, and the patient evidenced no discomfort. On subsequent follow-up, the sinuses showed no signs of irritation, infection or bleeding and the implant was working very nicely. The implant is designed to stay in place for up to 3 months, giving the patient continued localized treatment while minimizing systemic effects.
Positive data from the SINUVA Sinus Implant was supported by the results of the RESOLVE II pivotal study. The study demonstrated a reduction in polyps, nasal obstruction/congestion, a reduction in need for repeat sinus surgery, and an improvement in impaired sense of smell.
About Del Rey Sinus & Allergy Institute
Part of the Del Rey MD family of clinics, Del Rey Sinus & Allergy Institute is an advanced otolaryngology medical practice. Del Rey Sinus & Allergy Institute offers a full array of the most advanced and proven techniques for accurate diagnosis and treatment of sinus and allergy conditions, including many minimally invasive or non-invasive procedures. The physicians of Del Rey MD are board-certified surgeons and Fellows of the American College of Surgeons. The practice was founded by Farhad Sigari, MD, FACS, a graduate of University of San Diego and Chicago Medical School, where he also completed surgical internship and residency. The clinics' areas of expertise include: sinusitis and sinus surgery including balloon sinus dilation; head and neck plastic surgery; snoring and sleep apnea; ear and hearing disorders including aviation and dive medicine; allergy and immunotherapy; head, neck and throat oncology; facial feminization surgery, microdermabrasion, facial masks and contouring and many other surgical and non-surgical treatments. Known for its adoption of the most innovative and advanced techniques, Del Rey MD draws patients from California, across the United States and foreign countries. Offices are located in Marina Del Rey and Bakersfield, California. For more information, visit delreysinus.com and delreymd.com.