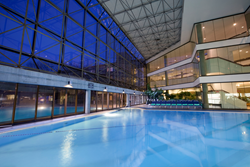 THE WOODLANDS-HOUSTON, Texas (PRWEB) April 03, 2018
Eleven luxury properties from Benchmark Resorts & Hotels and Gemstone Collection are offering Americans a much much-needed escape from the stress of preparing for April 17th, with rewarding Tax Day Relief Travel Getaways & Promotions. All are located in distinctive destinations that span beachfront hotels, mountain lodges, golf resorts, and urban oases across the U.S. and in the Caribbean. Offering guests an array of stress-free, relaxing and fun remedies to the anxiety that comes with tax season, these unique luxury hotels and resorts are offering up to 50% savings on hotel getaways, spa treatments, outdoor activities and more. Several programs are in effect well beyond tax season with some extending throughout the year, leaving plenty of time for travelers to receive their well-earned refunds. Participating hotels and resorts include the following.
California – Santa Cruz
Chaminade Resort & Spa, a Benchmark Resorts & Hotels property in Santa Cruz, is a California Dream come true. The resort overlooks scenic Monterey Bay in Santa Cruz and guests can rest, relax and rejoice at the end of tax season and save with ten days of $99 guest room rates. From April 17 - 27 book the resort's "1099 EZ Savings" offer for a well-deserved Santa Cruz getaway.
Booking Link: http://www.chaminade.com/santa_cruz_resort_deals/1099-EZ
Curacao, Dutch Antilles
Santa Barbara Beach & Golf Resort on the Caribbean island of Curacao, offers U.S. travelers a safe haven for tax refund dollars. Part of Benchmark Resorts & Hotels, the AAA Four Diamond resort is offering rates from $109.90 per night via its limited-time tax relief program. Guests can book now through April 30, 2018 for stays through December 20, 2018. The Tax Relief rate gets guests inside the 27-acre oceanfront locale that sits on the island's famous 2,000-acre Santa Barbara Plantation, replete with water sports, snorkeling and scuba, mountain biking, guided hikes, first-class cuisine, luxe spa treatments, and more. Booking Link: https://reservations.travelclick.com/73566?&rateplanID=2834236
Florida - Orlando
The Grove Resort & Spa Orlando, a Benchmark Resorts & Hotels property, rolls out their Tax Relief Sale to help alleviate the pressures of tax season. The all-suite destination-style resort, located just a few miles from Walt Disney World, introduces rates up to 50% off, helping visitors access The Grove Resort & Spa Orlando's spacious two and three-bedroom, residential-style accommodations that measure three times the size of the city's standard hotel room. At The Grove, families enjoy spacious floorplans that feature full kitchens, living and dining areas, multiple bathrooms, washer/dryer, and screened balconies. Outside the suites, guests can indulge in the resort's extensive lineup of on-site amenities, including water sports on Lake Austin, three swimming pools, a full-service spa, multiple dining and drink venues, and the newly unveiled Surfari Water Park with twisting tube slides, a lazy river, kids' activity pool, and a FlowRider® Double surf simulator. The Tax Relief Sale is bookable between April 17-19, 2018 for stays through December 31, 2018. Booking Link: https://gc.synxis.com/rez.aspx?Hotel=71594&Chain=20278&promo=72TAX
Florida – Vero Beach
Costa d'Este Beach Resort & Spa adorns Florida's fabulous Treasure Coast in Vero Beach. The Gemstone Collection property, created by Gloria and Emilio Estefan, offers the EZ Tax Relief Room Promotion with savings of 25% bookable now through Tax Day, April 17, for stays through July 31, 2018. Take advantage of specials at the spa with the 'Take It EZ 50-Minute Tax Relief Massage' for only $109.90. Add any $25 enhancement for only $10.99.
Booking Link: https://reservations.travelclick.com/15515?&rateplanID=2832514
Illinois - Chicago
Taxpayers can take a break for a great golf and spa getaway at Eaglewood Resort & Spa in the Chicago suburb of Itasca. The Benchmark Resorts & Hotels property offers a special EZ Bed & Breakfast Package - $99 rate including a full breakfast buffet for two, plus spectacular views of the championship golf course. Booking Link: https://reservations.travelclick.com/15450?&rateplanid=1768297
Massachusetts - Boston
Copley Square Hotel, a Gemstone Collection property located in the heart of Boston's vibrant Back Bay, is offering its "File For 2017 & Save 20.17%" promotion, featuring 20.17 percent off stays June – September. Located just minutes from Boston's best attractions, dining and high-end shopping, Copley Square Hotel boasts complimentary amenities and experiences: AM Power Hour featuring bottled water, granola bars, jogging maps and crisp towels, Wi-Fi, freshly brewed tea and coffee service each morning, and an engaging Copley Wine Hour to kick off your evening.
Booking link: https://reservations.travelclick.com/102285?&rateplanID=2355640
New York - Rye Brook
Doral Arrowwood, a Benchmark Resorts & Hotels property set on 114 scenic acres in historic Westchester County, is offering their "Refund Please – Tax Relief Offer" when guests book their reservations by 12 Midnight on Tax Day April 17th. For each room night booked, guests will receive a $25 Resort Credit to be used for dining in one of three unique onsite restaurants, playing golf on the challenging 9-hole course, shopping for golf apparel or merchandise in the pro-shop or playing tennis on the indoor/outdoor lit tennis courts. Offer valid for up to three nights for stays from now until September 3, 2018. Booking Link: https://reservations.travelclick.com/14117?ProdID=677698
Vermont - Burlington
The Essex, Vermont's spectacular Culinary Resort & Spa and a Gemstone Collection property, offers a Tax Day Relief Special with 20 percent off the entire stay, at rates starting as low as $119. In addition, the resort will waive its $20 resort fee, Sunday – Thursday, through June. Taxpayers who book for April will also receive a 30 percent savings off Spa Services. This quintessential Vermont experience is a tranquil escape from the stresses of tax season. The resort is located between Vermont's Green Mountains and Lake Champlain minutes from downtown Burlington.
Booking Link: https://bookings.ihotelier.com/bookings.jsp?hotelId=4499&rateplanid=2355494&identifier=TAX18
Vermont - Stowe
Vermont's legendary Topnotch Resort, a Gemstone Collection property in Stowe, offers a Relax Without Tax program. Topnotch Resort will pay the Vermont sales tax on room rates so guests can indulge on spa treatments, dining and tennis!
Booking link: https://gc.synxis.com/rez.aspx?Hotel=27313&Chain=10069&template=fBTVTN&shell=fBTVTN4&promo=TAX18
West Virginia - Roanoke
Tax season is soon over and it's time to celebrate with a family-friendly stay, lakeside, at Stonewall Resort. The Tax Relief Package features 25% off the Standard Nightly Rate plus two Stonewall Outfitters Passes for just $10.99 each (normally $15 ea.) Outfitters Passes include unlimited sessions with our kayaks, canoes, stand-up paddle boards, paddle boats and road bikes for an entire day! This limited time offer is available for booking between April 18 - 23 for stays between April 18 - June 30th. Added benefits include rejuvenating sessions in Mountain Laurel Spa and the resort's stunning Arnold Palmer Signature Course. Booking link: http://www.stonewallresort.com/near_jackson_lake/taxrelief
Wyoming – Jackson Hole
The mountains are calling this tax season! Snow King Resort Hotel & Grand View Lodge in Jackson Hole is offering something "better than a refund" this tax season: 25% off guests' stay during the months of May and June, 2018. Whether one's personal getaway means exploring the national parks, hiking the mountain high, adventuring in the tree-tops course at next-door Snow King Mountain or paragliding high above Jackson Hole, everyone will enjoy the ultimate relief with this incredible savings.
Booking link: https://www.snowking.com/jackson_special_offers/tax_season/
About Gemstone Collection
The Gemstone Collection includes distinctive hand-picked properties in spectacular and popular U.S. destinations coast to coast. Each upscale resort and hotel destination provides highly-personalized service and luxury reflective of the charm and unique character of the destination, while in keeping with the collection's shared mission and passion for excellence. http://www.gemstonehotelcollection.com
About Benchmark Resorts & Hotels®
Benchmark Resorts & Hotels® features the finest in lodging, dining, recreational and meeting accommodations. Featuring unique and distinctive properties renown for exceptional service and for creating unforgettable memory-making experiences, it is the signature portfolio of BENCHMARK®, a global hospitality company. http://www.benchmarkresortsandhotels.com.