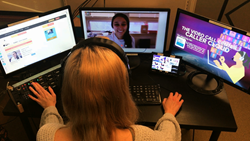 PALISADES, N.Y. (PRWEB) April 03, 2018
The Video Call Center today introduced Call Manager Pro™ (CMP), the most effective, effortless video call acquisition software for live television production. CMP automatically handles all the technical complexity of video calls to ensure they look their best when brought to air, which frees a show's producers to keep their focus on the quality of their content.
CMP software provides a powerful set of productivity tools used to:

quickly launch or end video calls across a variety of applications including FaceTime, WebRTC and Skype.
automatically reposition and resize call windows to suit the look-and-feel of a show
automatically remove unwanted visual elements, created by calling apps, from the screen (e.g., user icons for ending calls, mute buttons, etc.)
automatically correct for lip-sync differences across multiple video call applications
enable producers, located anywhere in the world, to set-up and manage calls remotely using the VCC's cloud-based platform
Video Call Center CEO Larry Thaler said, "Successful live television entirely depends on people and systems that deliver great results instantly and accurately. That's why the Video Call Center created Call Manager Pro. For the first time, producers and call screeners no longer have to painstakingly manipulate the window of each video caller they want to bring to air. CMP fully automates and executes critical decisions. As a result, video calls consistently come to air looking their very best, regardless of the caller's device or video calling app."
CMP works with popular video calling applications a caller would typically already have on their smartphone, laptop or tablet, including native IP video calling apps such as Apple FaceTime and Google's Web-RTC format, as well as popular apps such Skype. CMP works in conjunction with the VCC's entire suite of production tools, including the Caller Queue™ video call management "Green Room in the Cloud" environment. CMP enhances already significant functionality that includes:

dynamic routing and re-routing of video calls from any caller to any VCC call computer
a branded waiting room that encourages callers to watch and stay engaged with the show
social amplification engine that motivates participants to announce their appearance on Facebook and Twitter
terms and conditions acceptance, including signing releases, prior to appearance
reporting of key data about guests, as well as metrics for post-show analysis
pre-screening of callers by professional moderators for relevance and appropriateness
resolution of technical issues prior to appearing on air including connectivity, lighting, audio quality, etc.
The VCC platform has been used to produce more than 550 live and live-to-tape programs, including nationally-distributed cable network shows for Discovery and TLC, broadcast programs on the stations of TEGNA and Fox, as well as for numerous digital distribution platforms including Major League Baseball. The VCC has aired nearly 6,000 callers through its patented video caller acquisition system and has achieved an overall on-air reliability exceeding 99%.
Demonstrations of Call Manager Pro will be conducted April 9 - 12, at the NAB conference in Las Vegas, in the Video Call Center's booth SU10008CM
About The Video Call Center, LLC:
The VCC is a technology and content development company devoted to handling large numbers of IP Video remotes-by-smartphone and putting them on the air through patented workflow and assistive automation (patents #8,767,031, #9,654,731 and other patents pending). The VCC is both a Facebook Live Media Solutions and Broadcast partner and is jointly owned by Wolzien LLC and TEGNA, which is a significant investor and customer. The VCC licenses its software and provides caller acquisition and production services. VCC has produced hundreds of programs for broadcast and the web for clients such as TEGNA, Fox TV Stations, Discovery and TLC. The VCC's advanced caller workflows help to expand audience engagement and extend the reach of its clients' programs. The VCC can be integrated through traditional control rooms or controlled efficiently by the host without a control room. Examples of video caller television programs and complete information about the VCC are available at http://www.thevcc.tv/.
Media contact for the VCC: Evan Sirof. Tel: +1 845 883 2109. esirof(at)thevcc.tv
All product names, logos, and brands are property of their respective owners. Major League Baseball trademarks and copyrights used with permission of MLB Advanced Media, L.P. All rights reserved. Skype is a registered trademark of Microsoft, Inc. FaceTime is a registered trademark of Apple Inc.