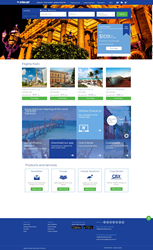 Mexico City, Mexico (PRWEB) April 03, 2018
Interjet Airlines, a leading international airline based in Mexico, announced today the launch of its revamped website showcasing a more user-friendly customer interface for booking and managing flights, online check-in, checking schedules, flight status and more. To help celebrate the launch of this new site Interjet is offering special, one-way promotional fares for flights between the U.S. and Mexico starting at $40.00. Special fares for flights within Mexico are available starting at $27.00. Restrictions do apply and details can be found at http://www.interjet.com.
"We are very excited about the new design and functionality for our updated website," said Julio Gamero, Interjet's Chief Commercial Officer. "All things being equal, today's airfare should include more than the price of the ticket. We not only offer a competitive price, but much more starting with our unique brand of free checked bags on select fares, all-leather seats with business-class legroom, free drinks, snacks and beverages on every flight and our no overbooking policy. Add to this, our great service that has been embraced everywhere we fly, and it's easy to see why Interjet is one of the fastest growing airlines in the world," he added.
For more information regarding Interjet's new website or to make a reservation, visit http://www.interjet.com or in the U.S. call (866) 285-9525.
About Interjet
Interjet is an international airline based in Mexico City providing air service to 55 destinations in eight countries, including 35 cities in Mexico. Its international network includes service to ten U.S. markets: Chicago, Dallas/Ft. Worth, Houston, Las Vegas, Los Angeles, Miami, New York, Orlando/Sanford, San Antonio and San Francisco. Other international routes include Montreal, Toronto, and Vancouver, Canada; Havana, Santa Clara and Varadero, Cuba; Bogota, Colombia; Guatemala City, Guatemala; Lima, Peru; and San Jose, Costa Rica. The airline operates a fleet of 80 aircraft including three Airbus A320neos, 47 Airbus A320s, two Airbus A321neos, six Airbus A321s and 22 Superjet 100s.
Media Contact
Julieta Peña Flores
Tel. +52 (55) 9178 5500 x5833
Email: Julieta.pena(at)interjet(dot)com.mx