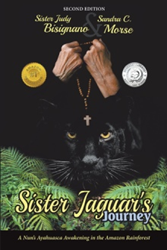 TUCSON, Ariz. (PRWEB) April 03, 2018
After enduring an abusive childhood, Sister Judy Bisignano decided family life was not for her and joined a convent – only to enter yet another abusive environment. When the school she started for Mexican-American families in Tucson closed, she was forced to make difficult decisions regarding her future. Her mentor and friend, Sandra C. Morse, guided her to Ecuador's Amazon rainforest to participate in the sacred rituals of the Achuar people.
In Bisignano and Morse's new book, "Sister Jaguar's Journey: A Nun's Ayahuasca Awakening in the Amazon Rainforest" (published by Balboa Press), the authors recount Bisignano's spiritual transformation in the rainforest. From self-rejection to self-acceptance, the memoir shares a candid account of a nun searching for God, harmony and forgiveness.
After years of conventional therapy, Morse encouraged Bisignano to take part in an Achuar ceremony to induce an out-of-body-and-mind transformation. In the jungle, a shaman prepared ayahuasca for the 68-year-old nun. Bisignano shares that under the sacrament's influence, she emerged anew as Sister Jaguar. This was the first step in her path to peace.
While in the Amazon, Bisignano came to know the Achuar people and culture. She found they offered "a model of spirituality and community to those who may not find meaning in organized religions." The authors share that it is through environmental restitution and recognition of one's place in the natural world that true healing begins.
"Sister Jaguar's Journey"
By Sister Judy Bisignano and Sandra C. Morse
Hardcover | 6 x 9 in | 250 pages | ISBN 9781504376259
Softcover | 6 x 9 in | 250 pages | ISBN 9781504376235
E-Book | 250 pages | ISBN 9781504376242
Available at Amazon and Barnes & Noble
About the Author
Sister Judy Bisignano, O.P., Ed.D., is an Adrian Dominican nun. Born in Des Moines, Iowa, she spent most of her adult life directing private and public charter schools in Tucson.
Sandra Morse and her 11 siblings were raised in Yuma, Arizona. She is a communications philosopher with a private practice in Tucson. Morse also conducts cultural immersion experiences to Ecuador's Amazon rainforest. She and her husband, Michael, have three children: Sophie, Elliott and Oren.