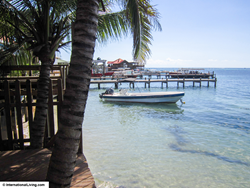 The cost of living here is reasonable on our reduced income
BALTIMORE (PRWEB) April 03, 2018
"Whether you dream of retiring full-time to a tropical paradise, owning a second home in a beach town where you can while away a few months a year, or you simply look forward to an occasional island vacation, you have great options where English is widely spoken," says Jennifer Stevens, International Living Executive Editor.
"All three of our English-speaking island picks offer retirees looking for a laidback beach escape the chance to make that dream a reality—and for pennies on the dollar. On a budget that would have you scraping by in many places at home, you could luxuriate on the beach on an island overseas. The trick is simply knowing where to go."
Detailed below are three great islands to live on, where English is widely spoken, which helps to make day-to-day living easy and convenient.
Expats have flocked to Belize's largest island, Ambergris Caye, for the last few decades. It is Belize's center for ocean sports during the day and for socializing at night.
Ambergris and the small nearby islands are not overly developed, which means they've maintained a laidback vibe. San Pedro is the major population center on Ambergris, a town of roughly 18,000 part- and full-time residents.
There are good reasons for the growth of the retirement haven's popularity, one being is its language. As a British Commonwealth country, English is the primary language, making it easy for expats to transition.
In fact, Belize is the only country in Central America with English as its main language, and that goes for its islands, too.
And it may come as a surprise, but moving to Belize is easy—U.S. currency is accepted, credit cards are widely used, and well-known U.S. brands are available too; they're expensive, but substitutes are easy to find.
Both of Belize's domestic airlines—Tropic Air and Maya Island Air—have frequent flights to the island from Belize City so getting to there is easy. Ambergris can also be reached by water taxi.
This little country is also well known for its open-arms attitude toward expats who wish to become residents, or to open a business.
Ron Delvalle and his wife Annette moved to Ambergris Caye two years ago.
"While we both love the azure waters and sandy beaches of the Caribbean, as a diver I was itching to experience the second-largest barrier reef system in the world," Ron says.
"The deal was sealed when Annette realized that she could do her corporate job remotely overseas. I, on the other hand, could apply for Social Security—supplementing my income by doing freelance work online. Living in Belize would also allow us to delay taking my pension and her Social Security, helping us stretch our income even further and allowing us to grow our investment portfolio.
"The cost of living here is reasonable on our reduced income. We live on the north side of the island, just a half mile from the bridge into town, making it convenient and giving us less congestion to contend with.
"Rent for our 1,200 square-foot, two-bedroom condo is $1,200 per month. Expect to spend between $600 to $800 for a one-bedroom unit. You can travel by foot, bicycle, or golf cart depending on your needs and budget. Since we can, we rent a golf cart with a monthly bridge pass for $425.
"While island life may not be for everyone, it's perfect for us. If you value people, relationships, and a simple life, with abundant beauty, and local charm, this may be as good as it gets."
For between $2,700 and $2,900 per month, a couple can enjoy a comfortable retirement in Ambergris Caye—a budget that includes the cost of a house or apartment rental. If you own your own home on the island outright, then expats report it's possible for a couple to live quite comfortably on less than $2,000 a month.
The Caribbean Bay Island of Roatán, 30 miles off the coast of Honduras, ticks a lot of boxes—white-sand beaches, turquoise, see-to-the-bottom Caribbean waters, warm weather, cooling sea breezes, and a laidback island vibe.
Little Roatán has made its mark as an affordable Caribbean island for travelers, as well as those looking to retire or start a new life abroad.
Although, Honduras is Spanish-speaking, English is widely spoken on Roatán, (thanks to its historical link to England—it was once a British colony) making the island a top choice.
"A big bonus for the island of Roatán is it's English speaking," says Jason Holland, IL's Roving Latin America Correspondent. "That—along with an active and welcoming expat community—makes it easy to get around, make friends, and transition to new island life."
Ann Winters and her husband Ron, moved to Roatán from The Florida Keys. Here, they have found a new lease of life.
"The one word that always comes to mind when asked how I like living here is 'contentment,'" says Ann. "I have never felt so content anywhere."
The couple are settled into a three-bedroom house set amid lush vegetation, overlooking the crystal-clear Caribbean Sea.
"I love that there is no sense of urgency about the little things here, and once you can adapt to that mañana attitude, it's very freeing, because there really is 'always tomorrow,'" says Ann. "Life here has taught me patience and given me a clear sense of humanity."
Regular flights in and out of the international airport, make Roatán accessible—it's quick and easy to see family back home. Here, a couple could comfortably get by—rent included—on a budget of about $2,000 a month.
Malaysia has been the popular expat destination since the late 1960s. But experts say Malaysia not only ticks all of the boxes of an outstanding retirement haven, it sets the bar for the rest. It offers luxurious living at bargain prices, friendly communities of ready-made friends and loads to do and see.
And although located in central Southeast Asia, Malaysia has an astonishing fact up its sleeve—it's English-speaking.
A former outpost of the British empire, Penang's English-speaking populace makes it easy for North American expats to fit in. Not only are people friendly and helpful but retirees can talk to them in English.
They also have three distinct communities—Malay, Chinese, and Indian—so most people are bi-lingual or poly-lingual. That also means tolerance and "live and let live" is the default attitude.
One of the great things about living in Malaysia is the lack of ageism in the culture. Older people are respected. Younger people have a caring attitude, which makes living there very pleasant.
Malaysia offers much ease, convenience and comfort. It's easy to see why it has become a world-class retirement haven—people are made to feel comfortable, superb infrastructure and expats can own properties freehold, has no inheritance tax, and places no tax on income repatriated from overseas.
On a budget of between $1,500 and $2,500 a month, a couple could live well here, everything included.
Since moving to Penang, from Portland, Oregon, Ed and Sally Wilkerson have enjoyed a lavish lifestyle on a modest budget. They live in a 1,300-square-foot apartment with sea and harbor views, and a balcony that can easily hold 30 people.
"We entertain quite a bit," Sally says. "This balcony and the apartment are made for entertaining, and we love having friends over. We get quite a few visitors from the States, and although people thought we were crazy when we left, they don't when they visit."
Their apartment comes with 24-hour security, a rooftop swimming pool, a state-of-the-art gym, and tennis courts. All for $1,000 a month.
Penang's low cost of living, coupled with lots of low-cost Asian airlines, has allowed the couple to indulge their love of travel.
"With the dollar as strong as it is, just over four to one to the Malaysian ringgit, and the cost of living a quarter of what we paid in the U.S., we are able to travel at will," says Ed. "We love traveling in Asia, and with flights in Asia as cheap as they are, it's one of the reasons we travel so much."
More information on these 3 low-cost, English-speaking islands, plus one extra English-speaking retirement hub, can be found here: Three Great English Speaking Islands
Editor's Note: Members of the media have permission to republish the article linked above once credit is given to Internationalliving.com
Further information, as well as interviews with expert authors for radio, TV or print, is available on request. Photos are also available.
For information about InternationalLiving.com content republishing, source material or to book an interview with one of our experts, contact PR Managing Editor, Marita Kelly, +001 667 312 3532, mkelly(at)internationalliving(dot)com
Twitter: @inliving
Facebook: https://www.facebook.com/International.Living/
About International Living
For 37 years, InternationalLiving.com has been the leading authority for anyone looking for global retirement or relocation opportunities. Through its monthly magazine and related e-letters, extensive website, podcasts, online bookstore, and events held around the world, InternationalLiving.com provides information and services to help its readers live better, travel farther, have more fun, save more money, and find better business opportunities when they expand their world beyond their own shores. InternationalLiving.com has more than 200 correspondents traveling the globe, investigating the best opportunities for travel, retirement, real estate, and investment.