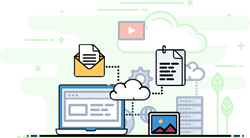 The service built to provide a powerful and stable business email service
(PRWEB) April 13, 2018
Software as a Service (SaaS) is one of the fastest growing software delivery models. Business users prefer SaaS solutions because they reduce the staffing requirements and cost as well as increasing flexibility.
WorldPosta is a SaaS product that uses Amazon AWS servers with all its benefits to meet the highest availability possible.
The service was built to provide a powerful and stable business email service. This helps organizations during their daily business operations.
More and more organizations around the world are now relying on WorldPosta for a cost-efficient, safe, and hassle-free communication system.
SaaS and cloud computing
SaaS is one of the three main categories of the cloud computing; secondly IaaS (Infrastructure as a Service) and last PaaS (Platform as a service). Knowing Amazon as the strongest in this area - alongside GCP (Google Cloud platform) - It became easy for the SaaS solutions providers to deliver service efficiently to users with high availability and security.
WorldPosta uses AWS Cloud to extend the cloud-based business email service to organizations of different sizes. It helps as well in managing the business-running burden of such an important service nowadays, which is crucial for everyday operations.
The impact of using AWS Cloud (And GCP)
WorldPosta business email provider promises 99.9% availability and the same number of Service Level. This is a result of using Amazon AWS, Google GCP and other data centers operated and maintained by WorldPosta team.
In December 2017, WorldPosta announced its Service Level for 2017, which is 99.7% SLA across all its supported platforms and mail clients. WorldPosta's core mission is to deliver the highest level of availability and reliability, along with security and protection to all users.
WorldPosta Data Centers
WorldPosta business email provider hosts its data centers in protected locations. It makes sure to protect the data against physical failures, disasters, hazards and redundant network devices, such as routers, switches, and gateways. That helps in keeping the service always up and running.
24/7 Physical Security Measures:
The location is video-monitored 24/7.
Data centers are protected and guarded around the clock to secure the site.
Entrance is restricted to authorized personnel only.
Undisclosed locations: WorldPosta servers are located in undisclosed locations.
Security systems and fire alarms.
Backup servers' locations are hosted separately.
Cooling and temperature control systems.
AWS Security Methods
WorldPosta uses Amazon Web Services (AWS) to deliver a scalable-cloud-computing platform, designed for high availability and dependability. It provides tools to protect the confidentiality, integrity, and availability of your business data.
AWS Infrastructure Security
The infrastructure is designed to achieve high-security standards. AWS uses redundant and layered controls, continuous validation and a substantial amount of automation to make sure the underlying infrastructure is monitored and protected 24×7.
Conclusion:
WorldPosta features are improving as they follow the latest technologies in cloud computing. They are
always tracking the next generation technologies in every aspect of their services, because new is always better in the world of today.