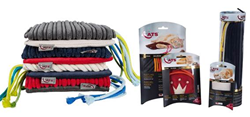 LONDON (PRWEB UK) 3 April 2018
4cats are pleased to announce that their team had a very successful time at the PATS Sandown pet trade show in March.
Each year PATS hosts new product of the year awards at their show and this year 4cats managed to secure one of the much sought after awards!
Quote: "The winners of the PATS Sandown 2018 New Product Awards, sponsored by pbwnews, were chosen by a team of nine expert pet retail judges, who arrived at the show before 9.30am on Tuesday, March 20, in order to make their choices from an impressive number of more than 180 new products entered."
All of their toys come in either 4catsnip (their own special catnip mix) or valerian filling.
Both fillings have a very special stimulating effect on cats that will entice the cats to be more playful. Even older cats seems to regain a new lease of life. The reactions of cats include ecstatic playing, intense licking and ardent rubbing on the toy. Also many cats, which do not normally react to toys, have quite a reaction to both our valerian and 4catsnip toys.
As a long-time producer of cat toys, 4cats have used their years of experience to develop their very own blend of catnip called 4catsnip. Catnip is a very popular filling for cat toys, since it is an irresistible attraction to most cats. Additionally, it is also perfectly suited to distract cats in stressful situations such as when visiting the vet.
Toys for House Tigers
Among their selection cat owners will find exclusive toys that will give them and their house tiger lots of enjoyment. These include their valerian toys and the exclusive 4catsnip toys. Their high quality toys for cats filled with valerian or 4catsnip catnip are an excellent choice for the enrichment of felines. From cute stuffed toys to extremely robust ones able to withstand the most active play, 4cats offer a wide variety of different products to suit all cats's needs.
And this year at the PATS awards they managed to get an official recognition that the toys are indeed the best on the market by winning the Cat Product of the the year 2018 in the New Product Showcase Award at PATS.
So what did the judges say about the 4cats products?
Quote: "An attractive, well packaged product with a Valerian calming option. It will sit well on the shelf, as well as being a good impulse buy around the counter. It is also very well priced."
4cats would also like to take this opportunity to mention Falconer Print and Packaging LTD to thank them for their support and service in creating the new packaging for the premium range.
Why not meet the 4cats team at Interzoo in Nuremberg from the 8th to the 11th of May 2018 in hall 7A, stand 421. They would love to meet pet business owners and show them their catnip and valerian toys.
Unable to make it to the Interzoo trade expo? Get in touch to obtain some samples or further details.