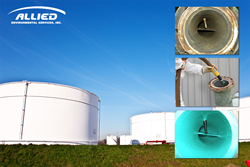 The advantage we have over our competition is our ability to self-perform all aspects of a tank or pipeline resurfacing project from start to finish
LIMA, Ohio (PRWEB) April 05, 2018
For over 30 years, Ohio-based Allied Environmental Services, Inc. has provided specialized industrial maintenance and environmental contracting services to private industry and public entities throughout the Great Lakes region. In 2017, as a result of customer demand, Allied expanded these services to include interior and exterior corrosion-resistant coating and lining services for storage tanks and pipelines.
According to Gary Gootee, Allied Industrial Services Manager, the company's coating and lining capabilities include complete project service. "The advantage we have over our competition is our ability to self-perform all aspects of a tank or pipeline resurfacing project from start to finish," Gootee stated. "Our crews can isolate and blank the equipment, evacuate and transfer any remaining contents, clean the vessel, blast and prepare the surface, apply the coating or lining, provide quality assurance testing, and bring the equipment back into service," Gootee added. According to Gootee, Allied's complete service approach simplifies the project coordination, schedule and billing, which benefits the customer. "Having a singular crew complete all tasks also results in a better finished project," Gootee added.
The growth of Allied's coating services has also had a measurable affect on the company's revenue for first quarter 2018. "Business is good," Gootee said. "We recently landed a contract with a major regional tank rental firm to re-coat and line their fleet of mobile frac tanks. We are also being approached by multiple upstream and midstream petroleum refining and transport firms to provide service," he added. According to Gootee, Allied plans to expand the industrial coatings service through 2018.
Learn more about Allied's industrial coating and lining services by clicking here: http://www.allied-environmental.com/services/industrial-services/industrial-coatings-and-linings
About Allied Environmental Services, Inc.
Allied Environmental Services, Inc. (Allied) is an industrial maintenance and environmental contracting firm headquartered in Lima, Ohio, with a branch office in Buffalo, New York. Allied provides professional on-site services to private industry, government and military facilities, railroads, municipalities, schools, and hospitals throughout the Great Lakes region. Allied specializes in industrial cleaning, vacuum-truck and hydroblasting services, pipeline maintenance, storage tank maintenance, hazardous materials management, emergency spill response, contaminant remediation and site restoration, industrial coatings application, pond sediment removal, asbestos management, underground storage tank closure, contaminant remediation, and industrial hygiene services.
For more information please visit Allied's website at http://www.alliedesi.com, or contact the main office at (800) 992-5781.