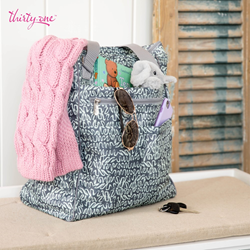 Baby by Thirty-One now provides customers a more diverse range of options with the brand's first-ever full line of bags designed specifically for parents and kids.
COLUMBUS, Ohio (PRWEB) April 03, 2018
Today, Thirty-One Gifts announced the latest addition to its already-dynamic bag and accessory lines with the introduction of "Baby by Thirty-One," an online-only collection of specially designed diaper bags, thermals, nursery décor and organizational favorites in adorable new prints. Simultaneously, Thirty-One will give back to the community through their Thirty-One Gives charitable initiative with 22 baby shower-themed events around Mother's Day, coordinated together with Ronald McDonald House Charities ® (RMHC). These events are for families with children in the Neonatal Intensive Care Unit (NICU) at participating hospitals and will take place throughout the company's 69-city 15th Anniversary Celebration Tour, currently underway.
With these baby shower events, Thirty-One Gifts aims to help mothers and families at a difficult time by providing them with much-needed necessities – some they potentially didn't have time to get before their baby was born – in preparation for taking home their healthier newborn in the near future.
"The importance of community and giving back is central to who we are and the culture we foster among our employees and network of more than 63,000 consultants," said Cindy Monroe, Thirty-One Gifts founder and CEO. "We are proud of the work that's gone in to creating the incredibly fun and functional Baby by Thirty-One line. It's an honor to launch it during our 15th Anniversary Celebration Tour with the tour's many community give-back events, planned together with nonprofit organizations we support."
About Baby by Thirty-One:
Thirty-One's bags have been popular among parents for years, having been named the Best Diaper Bag two years in a row by Baby Center. However, Baby by Thirty-One now provides customers a more diverse range of options with the brand's first-ever full line of bags designed specifically for parents and kids.
Baby by Thirty-One is a line of four diaper bags and four accessory bags and thermals, and seven nursery décor products in 13 prints, as well as eight new baby personalization options. The collection makes the parenting journey easier, and helps to create a comforting, cozy space for a little one – so that families can enjoy every moment together.
The new fashionable, yet functional, products feature the following (on various items):

Insulated thermal interior pockets for keeping breast milk, formula or food cold or warm
Exterior pockets for holding all the extras, including bottles, blankets and wipes
Adjustable webbed straps that can go from shoulder strap to crossbody
Ability to be personalized with special baby icons or a name, initials or phrase
Zipper closures to keep everything in its place
Interior lobster claw to attach a Cool Clip Thermal, keys or other items
Exterior zipper pockets
Interior elastic pockets
Magnetic snap closure
Side cinch pockets
Cell phone pocket
Made of polyester, nylon, and rip-stop polyester fabric in modern prints that mix and match
The Take Two Diaper Bag converts from a bag to a backpack with adaptable straps
The Cargo Clip-On Thermal transforms from a shoulder bag to attach to the handle of a stroller
The Multi-Bottle Thermal has a large insulated storage compartment as well as a zip-open, non-thermal top compartment
Thirty-One's new baby-friendly personalization options can also make these products a giftable keepsake for anyone attending a baby shower, celebrating a birth, or customizing a nursery with one of many new designs.
RMHC Support
Giving back is fundamental to Thirty-One and through its charitable initiative, Thirty-One Gives, the company works to empower girls, women and families to lead purposeful, thriving lives. Since 2012, Thirty-One Gives has donated $100 million in products and cash to charitable organizations that share their mission, including Ronald McDonald House Charities.
To date, families have received over 500,000 Thirty-One Gifts welcome bags at RMHC locations throughout the U.S. and Canada, and the company's financial commitment has helped enable over 12,500 family nights. Employees at Thirty-One's headquarters also volunteer at the local RMHC chapter in Columbus, OH on the last day of each month with 31 days. The company also created a beauty salon at the house, sponsored a guest room, and purchased an adjacent home for RMHC's use. The Thirty-One sales force is also active volunteers at RMHC locations throughout the U.S. and Canada.
About the 15th Anniversary Celebration Tour and Thirty-One Gives Activations:
Thirty-One Gifts is one of the world's largest direct-selling companies, offering purses and wallets, totes, home organization solutions and décor, thermal bags, jewelry and more. Cindy Monroe started Thirty-One in her basement in 2003. From those humble beginnings, the company has grown to include more than 1,000 employees and more than 63,000 independent sales consultants across the U.S. and Canada.
The company is currently celebrating its 15th anniversary by welcoming guests across the country to its 69-city Celebration Tour, where visitors can explore the company's big pink mobile shop and see the brand's fashion, home organization, and utility products; learn about the opportunity to become a Thirty-One independent consultant; and win prizes. At many stops on the nationwide tour, they join nonprofit organizations Thirty-One supports with community give-back events, including World Vision, Ronald McDonald House Charities, Operation Homefront, Girls on the Run and the Kids in Need Foundation.
The Thirty-One shop comprises a 26-foot-long trailer pulled by a truck and is ADA accessible. Both the trailer and truck are painted in Thirty-One's bright pink logo color and 15th anniversary branding. The trailer walls hinge open to accommodate visitors and create a store-like space.
The name Thirty-One Gifts comes from Proverbs 31 of the Bible, which describes the attributes and the importance of a "virtuous woman." With a mission to help women by giving them the opportunity to own their own businesses and work from home, Thirty-One provides many of the tools to help them earn supplemental income, support their personal "Whys" and make the path to their goals simple, easy and fun.
To learn more about Thirty-One Gifts and shop Baby by Thirty-One, visit babybythirtyone.com.
For more information about the 69-City Celebration Tour visit: https://www.mythirtyone.com/info/CelebrationTour.