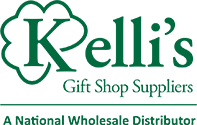 CARROLLTON, Texas (PRWEB) April 05, 2018
Kelli's Gift Shop Suppliers, the nation's leading wholesale distributor dedicated to the needs of specialty gift shops, announced today that they have acquired National Distributors, a division of Agency Wholesale Cosmetics, Incorporated. National Distributors is a Pennsylvania-based wholesale merchandising company offering gifts and general merchandise to a variety of gift shops across the United States. As a result of the acquisition, customers will enjoy broadened product lines, advanced online ordering capabilities, and access to some of the best experts in the niche gift shop supplying industry.
"We highly recommend that you utilize Kelli's as your wholesale gift shop supplier, as you can expect to receive the same quality of service that you have come to expect from us," Martin Mallit, President of National Distributors, said in a letter addressed to National Distributors' customers.
Kelli's Gift Shop Suppliers has been in the wholesale gift shop supplying industry since 2000 and has established effective operational procedures, world-class customer service practices, and a variety of merchandising options for their customers. The integration of National Distributors into Kelli's Gift Shop Suppliers will be a smooth transition, with members of the Kelli's team ensuring that there is no disruption of service to their valued customers.
"With 60 years of collective experience in a niche industry, National Distributors and Kelli's Gift Shop Suppliers are a natural fit. We are excited to service the customers from National Distributors with the same level of care that we extend to our current customers," said Justin Cohen, President of Kelli's Gift Shop Suppliers.
Kelli's Gift Shop Suppliers is the nation's leading wholesale distributor to gift shops worldwide, with product lines ranging from health and beauty supplies to specialty gifts and seasonal merchandise. They are the exclusive provider of Kelli's changemaker candy tubs as well as Kelliloons™, a line of gift baskets that are assembled in house at their facility in Carrollton, Texas.