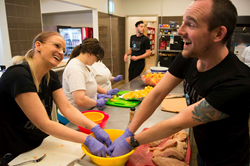 TOLEDO, Ohio (PRWEB) April 05, 2018
It is always devastating when a child is stricken with a serious illness. It's even worse when it befalls a family living far from the medical facility providing the required treatment for the child. A crisis of this nature inherently disrupts the daily routine and stirs anxiety. Adding the financial and emotional stress of finding long-term lodging, food, and other necessities just aggravates an already difficult situation. This is why the Ronald McDonald House of Northwest Ohio was established.
Families, who need to remain in the Toledo area while their child is being treated, are afforded a clean, safe, and warm home environment for as long as they need it. Being heavily dependent on donations and volunteers, the Ronald McDonald House eagerly welcomed the help that employees of MR Direct offered to provide.
On each of several nights, more than a dozen employees met at the House to cook and put together ready-to-eat meals for families who would be returning late, and hungry, after caring for their child at a local hospital. One night the group prepared a nutritious dinner of Italian chicken, mac & cheese, fruit salad, and vegetables. Foods were kept ready in crockpots and refrigerators for immediate access.
One MR Direct employee commented that she felt lucky to live in an area that has great medical care nearby, "but some families aren't so lucky, and those families need the Ronald McDonald House to stay close to their loved ones during a hard time." Another employee explained that after his participation he gained, "a much clearer idea of all that the Ronald McDonald House was actually providing and how sometimes people find themselves in situations where they just need a hand."
The Ronald McDonald House of Northwest Ohio has been serving families in need for over 35 years by providing rooms, meals, common conveniences, and a generally relaxed atmosphere. It all gets done through volunteers and MR Direct is proud to note that over 30 employees gave a few hours of their free time to ease the burden of families facing a trying time.