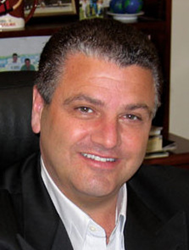 NYCB LIVE has consistently lived up to its promise of minimizing its impact on the environment and protecting the health of its many thousands of guests.
SYOSSETT, N.Y. (PRWEB) April 04, 2018
Emerald Brand, maker of everyday products that are sustainable, rapidly renewable, and environmentally responsible, announced the winners of its Fifth Annual Emerald Brand Sustainability Awards. Each year, the company recognizes its clients who have gone above and beyond in their efforts to implement sustainability programs through the use of Emerald Brand's Tree-Free™, compostable, and BPA free products and Emerald Ecovations' environmental programs.
By converting to Emerald Brand's sustainability program, NYCB LIVE has saved a total of 138 trees, 8,597 pounds of plastic, and 34,210 gallons of water.
"Seeing any organization commit to protecting our environment is always great, but when it's on our doorstep here on Long Island, it's particularly satisfying. NYCB LIVE has consistently lived up to its promise of minimizing its impact on the environment and protecting the health of its many thousands of guests," commented Ralph Bianculli, CEO. "We are proud to partner with such an important local venue and the realization of our shared environmental mission."
Sports teams, artists, and fans showed an outpouring of appreciation for NYCB LIVE's recent sustainable decision to renovate the structure instead of demolishing it.
"We're committed to doing whatever we can to reduce our environmental footprint and contribute to the reduction of toxic landfill waste. Emerald products offered us the alternatives we needed to take such an important step; affordable and effective, they have proven to be hugely successful for us," commented Stephan Urbanowycz, Director, Arena Operations at NYCB LIVE.
NYCB LIVE's decision to utilize Emerald Brand's complete sustainable janitorial program, including Tree-Free™ products such as towel and tissue items throughout the arena, will not only make a difference, but will set a sustainable example for other businesses in the area.
About Emerald Brand:
Family owned and operated since 1997, Emerald Brand produces everyday disposable products made from sustainable, alternative materials at affordable prices. Committed to sustainable and rapidly renewable solutions, Emerald Brand's innovations in Tree-Free™ technology and petroleum free plastics are revolutionizing packaging and disposables worldwide. Emerald Brand's growing suite of 250+ sustainable finished products offers the workplace a healthier and more sustainable environment.
In 2017 Emerald Brand's products and programs saved 19,589 trees, 748,047 pounds of plastic and 5,392,089 gallons of water.
Emerald Brand's corporate solutions include educational forums, measurable environmental impact statements, and consulting services that are at the forefront of future movements in composting and recycling. Emerald Brand, in conjunction with Emerald Ecovations Material Technology Group, will continue to innovate Emerald Brand's growing lineup of finished goods and retail packaging materials. The company's mission statement "Farm to Tissue, Made in the USA" is on track to revolutionize the entire industry.
Products are available for consumer purchase at http://www.emeraldbrand.com and for businesses at http://www.paradigm-grp.com.
About NYCB LIVE, Home of the Nassau Veterans Memorial Coliseum:
NYCB LIVE, home of the Nassau Veterans Memorial Coliseum re-opened on April 5, 2017 with a concert by Billy Joel after an 18-month, $175 million renovation. Continued development at the NYCB LIVE site will make this historic arena the centerpiece of a reimagined sports & entertainment village that will be Long Island's premier entertainment destination.
The arena is home to the NBA G-League's Long Island Nets, a direct affiliate owned by the Brooklyn Nets. The 416,000-square-foot arena will feature capacities of 14,500 for concerts, 13,500 for basketball and 13,900 for hockey. The unique 5,000-seat Coastline Theater configuration will offer a new, intimate experience for both artists and fans. With 77 acres of property to work with, NYCB LIVE is prepared for large-scale festivals that expand beyond the building's walls.
The Coliseum first opened on February 11, 1972 with an ABA game between the New York Nets and the Pittsburgh Condors. With an initial capacity of 15,000, the arena occupied 63 acres of Mitchel Field, a former Army/Air Force base, and was built at a cost of $32 million. The arena was home to the Nets and New York Islanders and several other professional sports teams, in addition to hosting major artists and events such Elvis Presley, Madonna, Bruce Springsteen, the NCAA Tournament and WWE before closing for renovations following a concert by Billy Joel on August 4, 2015.