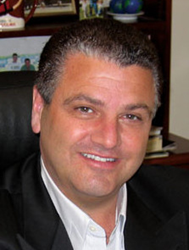 Best Western's commitment to environmental action is evident in every aspect of their business – we are thrilled to be part of their journey.
SYOSSET, N.Y. (PRWEB) April 04, 2018
Emerald Brand, maker of everyday products that are sustainable, rapidly renewable, and environmentally responsible, announced the winners of its Fifth Annual Emerald Brand Sustainability Awards. Each year, the company recognizes its clients who have gone above and beyond in their efforts to implement sustainability programs through the use of Emerald Brand's Tree-Free™, compostable, and BPA free products and Emerald Ecovations' environmental programs.
Best Western Hotels & Resorts is one of the most trusted global brands in the hospitality industry through their adoption of Emerald Brand's sustainability program, Best Western Hotels & Resorts saved a total of 229 trees, 15,138 pounds of plastic, and 5,614 gallons of water.
"Consumers have proven that an organizations commitment to being environmentally responsible matters and affects the way they interact with a brand," commented Ralph Bianculli, CEO. "Never was this more true than in the Hospitality industry, where guests can see for themselves the very real ways hotel groups live up to their promises. Best Western's commitment to environmental action is evident in every aspect of their business – we are thrilled to be part of their journey."
Best Western Hotels & Resorts partnered with Emerald Brand to take their sustainability journey to the next level.
"It is rewarding to receive this recognition, and it is only the beginning of our long term commitment. The entire Best Western team is dedicated to being environmentally responsible and will continue to identify and evaluate opportunities and implement more sustainable practices and programs throughout the brand. Working alongside Emerald has been a pleasure and we look forward to a long and successful relationship," said Ron Pohl, Chief Operating Officer, Best Western Hotels & Resorts.
Best Western Hotels & Resorts maintains a comprehensive recycling and sustainability program and they are committed to reducing their impact on the environment across every aspect of the business.
About Emerald Brand:
Family owned and operated since 1997, Emerald Brand produces everyday disposable products made from sustainable, alternative materials at affordable prices. Committed to sustainable and rapidly renewable solutions, Emerald Brand's innovations in Tree-Free™ technology and petroleum free plastics are revolutionizing packaging and disposables worldwide. Emerald Brand's growing suite of 250+ sustainable finished products offers the workplace a healthier and more sustainable environment.
In 2017 Emerald Brand's products and programs saved 19,589 trees, 748,047 pounds of plastic and 5,392,089 gallons of water.
Emerald Brand's corporate solutions include educational forums, measurable environmental impact statements, and consulting services that are at the forefront of future movements in composting and recycling. Emerald Brand, in conjunction with Emerald Ecovations Material Technology Group, will continue to innovate Emerald Brand's growing lineup of finished goods and retail packaging materials. The company's mission statement "Farm to Tissue, Made in the USA" is on track to revolutionize the entire industry.
Products are available for consumer purchase at http://www.emeraldbrand.com and for businesses at w ww.paradigm-grp.com
About Best Western® Hotels & Resorts:
Best Western Hotels & Resorts headquartered in Phoenix, Arizona, is a privately held hotel brand with a global network of 4,200† hotels in more than 100† countries and territories worldwide. Best Western offers 11 hotel brands to suit the needs of developers and guests in every market: Best Western®, Best Western Plus®, Best Western Premier®, Vīb®, GLō®, Executive Residency by Best Western®, BW Premier Collection®, and BW Signature CollectionSM by Best Western; as well as its recently launched franchise offerings: SureStay® Hotel by Best Western, SureStay Plus® Hotel by Best Western and SureStay CollectionSM by Best Western. Now celebrating more than 70 years of hospitality, Best Western provides its hoteliers with global operational, sales and marketing support, and award-winning online and mobile booking capabilities. Best Western continues to set industry records regarding awards and accolades, including 64 percent of the brand's North American hotels earning a TripAdvisor® Certificate of Excellence award in 2017, Business Travel News® ranking Best Western Plus and Best Western number one in upper-mid-price and mid-price hotel brands, and Best Western receiving seven consecutive Dynatrace® Best of the Web awards for its leading hotel website. Best Western has also won nine consecutive AAA®/CAA® Lodging Partner of the Year awards, recognizing the brand's commitment to providing exceptional service and great value to AAA/CAA's nearly 58 million members in the U.S. and Canada. Best Western-branded hotels were top ranked in J.D. Power's 2017 North America Hotel Guest Satisfaction Index Study – ranking first in breakfast (food and beverage category) for midscale; and second in overall guest satisfaction. Over 32 million travelers are members of the brand's award-winning loyalty program Best Western Rewards®, one of the few programs in which members earn points that never expire and can be redeemed at any Best Western hotel worldwide. Best Western's partnerships with AAA/CAA and Harley-Davidson® provide travelers with exciting ways to interact with the brand. Through its partnership with Google® Street View, Best Western is the first major company of its size and scale to launch a virtual reality experience for customers, setting a new industry standard and reinventing how guests view hotels.

All Best Western and SureStay-branded hotels are independently owned and operated.