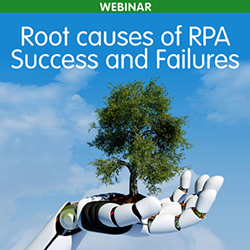 London (PRWEB UK) 27 April 2018
RPA, Intelligent Automation and other emerging technologies have had a lot of coverage in the past couple of years, but the conversation has now moved from vision to execution.
It's time for a reality check...
There is now enough experience to diagnose some of the key challenges and identify root causes that are impacting the success of RPA and trapping many organisations in the swamp of "Fail to Scale".
On May 2nd sharedserviceslink will be joined by Dan French, CEO, Consider Solutions for a webinar addressing the fundamentals needed to prepare the ground to make investment in RPA deliver on the promise.
Register for the webinar and find out:
What are the experiences and consequences of early RPA programs?
Why process simplification and standardization drive the success of RPA
How to ensure the RPA program drives the results businesses are aiming for?
The impact on business processes when RPA program is successful
The thought and practice leadership shared in this webinar will help attendees manage their RPA program effectively and ensure the basics are in place to set RPA programs up for success.
For more information and to register attendance, click here