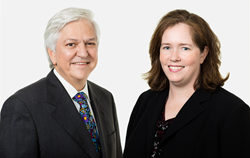 Jennifer is a proven contributor, and I value her leadership, positive energy, collaborative style, and strong knowledge of our organization, which will make this a seamless transition. — Dilip Choudhuri
HOUSTON (PRWEB) April 03, 2018
International engineering firm Walter P Moore announces two key changes within the firm's Infrastructure Group, which encompasses civil and water resources engineering; traffic, ITS, and transportation engineering; and transportation planning. The new roles will take effect on May 1, 2018.
Edwin Friedrichs, P.E., PTP, Senior Principal, who has led the firm's Infrastructure Group for the last 34 of his 41 years at Walter P Moore, is transitioning to focus more on his roles as Director of Transportation Engineering and as Vice President of the firm. This transition allows Edwin to engage more deeply with clients and within the community, and to mentor the multiple generations of future leaders at Walter P Moore.
Says CEO Dilip Choudhuri, "Edwin is very strongly rooted in the local community and has developed longstanding relationships with city leaders and valued clients. Edwin will continue to serve the community and focus on strengthening his connections in the marketplace."
Jennifer Peek, P.E., PTOE, PTP, Senior Principal, will assume the role of Executive Director of Infrastructure, where she will oversee the various regional, national, and international practice areas for Walter P Moore's Infrastructure Group and direct the strategic, long-term initiatives of the business unit.
Over her 20 years with the firm, Jennifer has served as the Managing Director for Traffic Engineering in Houston and currently serves dual roles as the Director of Traffic Engineering (for all offices) and the Operations Manager for the Infrastructure Group. Also a member of the firm's Operations Council and Board of Directors, Jennifer has been involved in many major projects such as the George R. Brown Convention Center/ADLA Improvements, Allen Parkway, and METRORail. She has also been named a CE News Rising Star and an ENR Texas & Louisiana Top 40 under 40. "Jennifer is a proven contributor, and I value her leadership, positive energy, collaborative style, and strong knowledge of our organization, which will make this a seamless transition," said Choudhuri.
About Walter P Moore
Walter P Moore is an international company of engineers, innovators, and creative people who solve some of the world's most complex structural and infrastructure challenges. Providing structural, diagnostics, civil, traffic, parking, transportation, enclosure, and construction engineering services, they design solutions that are cost- and resource-efficient, forward-thinking, and help support and shape communities worldwide. Founded in 1931 and headquartered in Houston, Texas, Walter P Moore's 600+ professionals work across 18 U.S. offices and five international locations.