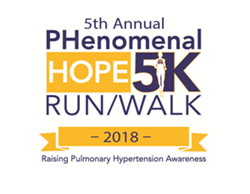 PITTSBURGH (PRWEB) April 03, 2018
When runners and walkers warm up for the PHenomenal Hope 5K Run on Saturday, April 21, someone who knows firsthand about pulmonary hypertension will be there to guide and cheer them on. Race Director Kayla Frattini has a personal reason for her commitment – her mother was a PH patient.
As runners train for this race, now entering its fifth year, Kayla is working every bit as hard growing this event. "We strive to make this event as exciting as possible for our participants. 2018 promises to be our biggest year yet, with the event eyeing to break the $40,000 mark for the first time. It is definitely an exciting time for our organization."
The race, which is presented by Allegheny Health Network, will benefit Team PHenomenal Hope, an organization dedicated to bettering the lives of those living with pulmonary hypertension. Race day will kick off with registration and check-in at 8:30 a.m. at Riverfront Park, North Shore in Pittsburgh, followed by a 1/2 mile Kids' Race at 9:30. The 5K Run and 1-Mile Fun Walk begin at 10 a.m. Heinz Field Boat Launch is the start/finish line for all races, with the flat course winding along North Shore Riverfront Trail. Awards for the 5K Run will fall into gender and age categories. This is a great event whether it's your first 5K or you're a seasoned runner. In addition to the race, there will also a lot of family-friendly activities and many ways to win prizes, from a balloon artist and face painting to a raffle for some amazing prize baskets, all for a great cause.
According to Pulmonologist Patricia George, sporting events like the 5K Run are ideal platforms to draw attention to life-threatening diseases such as pulmonary hypertension.
"We promote using endurance sports both to educate people about PH, a progressive, terminal condition, and the need for a cure, as well as to inspire others to rally to this cause," said George, co-founder of Team PHenomenal Hope. "I was one of the original four bike racers on Team PH, and it was friends, teammates and people like Kayla who inspired me to help organize and found our non profit in 2012."
Frattini echoes George's sentiment. "As someone who has witnessed the progression of this disease first hand, I understand the daily struggles those living with PH go through and the limited treatments that are available to them. I am dedicated to helping those living with this disease and am so excited to see such a positive response from our community."
"Our efforts through endurance events, along with the PH community's hard work and passion, have made Team PH a real success," George said. "We hope that what we are doing will inspire others to take on their own fundraising and awareness campaigns or to donate to ours. We CAN make an impactful difference in the lives of those with PH."
For more information, to register for the race, or to donate to the cause, go to http://www.phenomenalhope5k.com. Visit http://teamphenomenalhope.org/ to learn more about Team PHenomenal Hope.