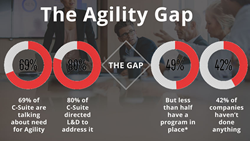 "This survey demonstrates a clear agility gap facing medium and large organizations," said Dr. Casey Mulqueen.
DENVER (PRWEB) April 04, 2018
A new survey of US and Canadian human resources and training executives reveals a troubling lack of preparedness and effort to develop agility skills, despite the fact that these professionals and their executive bosses say agility is crucial to long-term success. The research from The TRACOM Group and global research firm Aranca, exposes an Agility Gap which is a significant threat to these organizations.
For the survey, agility was defined as "the capacity to recognize, create and capitalize on opportunities in a world full of disruptive change." Capabilities in these areas are consistently ranked by senior executives as critical for sustainable growth and success.
While 80% of the survey participants said agility capabilities were important or extremely important and that their Learning and Development organization had been directed to develop this capacity, less than half have a program to develop these skills. And nearly half are just starting to think about doing so or haven't even started.
The disconnect between executive strategy and training execution is further highlighted by the fact that 56% of respondents said agility training was not among their top priorities. Participants were specifically asked to reconcile the lack of effort to develop skills they say are crucial and have been prioritized by the C-suite. A lack of funding and uncertainty over how to develop these skills were frequently cited.
One survey participant explained their situation with frustration. "We would like to develop agility skills, but there is no funding in our budget for the next 12 months," stated the human resources manager for an aerospace contractor.
Many respondents didn't know where to start with Agility training. Only four of the 75 respondents (5.3%) could name a vendor-provided agility training program or assessment. Just four others said they had developed their own training materials.
"This survey demonstrates a clear agility gap facing medium and large organizations," said Dr. Casey Mulqueen, the Senior Director of Learning & Development who directed the survey for TRACOM. "L&D executives recognize the importance of agility skills but often aren't doing enough to develop them. Regardless of the funding barriers and lack of internal expertise, they are failing their organizations."
Survey Description
Phone interviews with executives from multinational companies employing at least 2,500 full-time employees were conducted from November 2017 through January 2018. Half of respondents worked for organizations with 2,500 – 10,000 employees and half with more than 10,000. All respondents were based in the US or Canada, though their companies may be headquartered elsewhere. All respondents had the title of manager or higher and were involved in "selecting or authorizing training programs" for their organization.
TRACOM Data Reinforces Previous Studies
The TRACOM research builds on other studies showing the critical value of organizational skills and a significant Agility Gap. A 2017 Deloitte survey of 10,000 global HR leaders found that building the "organization of the future" was the highest rated challenge with 88% rating it important. Yet only 11% say they "understand how to build the organization of the future." Other studies from KPMG, McKinsey and Accenture have similar findings.
Time for HR to Step Up
"CLOs and CHROs have moved into the executive suite to combine strategic vision and solid execution," Dr. Mulqueen said. "But this survey shows a disconnect between those two responsibilities. Learning executives must lead the way in delivering the agility capabilities that they already recognize as crucial to their futures."
Agile organizations start with the individuals who make up your workforce. Agile individuals capitalize on changes in the environment, they challenge the status quo and they are constantly looking for ways to improve. They challenge themselves and those around them to be better and do better.
For businesses that are ready to develop agility skills, the first step is an education regarding the personal and organizational aspects of agility. TRACOM offers a three-minute agility video that looks at how agility affects performance at the individual, team and organizational level. TRACOM's agility model is built on the latest research in brain science, behavioral psychology and business performance. It's grounded in research but built for workplace impact.
"The bad news is that too few organizations have initiated agility training programs," said Dr. Mulqueen. "But the good news is that there are practical techniques that individuals and teams can readily learn and apply to jumpstart an agility movement."
Get a summary of the TRACOM Agility research.
Editorial Resource Note: Dr. Casey Mulqueen is available for interviews to discuss this research study and its implications. TRACOM can provide unique articles about this research or agility topics for publications, websites and blogs. Contact Sean Essex.