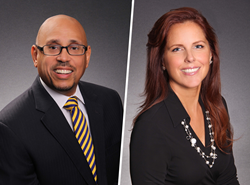 The Tania Ivey Real Estate Group brings an impressive track record of successfully managing and growing their business, and we are here to support them in their mission to grow their business.—Judy Rudat, SVP Virginia/DC Metro region
RESTON, Virginia (PRWEB) April 04, 2018
Berkshire Hathaway HomeServices PenFed Realty, one of the country's fastest-growing real estate brokerages, announced today that the Tania Ivey Real Estate Group, a top-ranked Northern Virginia real estate team, has joined the company's Tysons Corner office. The team is led by Marc Cormier, a 15-year real estate veteran and best-selling author.
"We are very excited to welcome the Tania Ivey Real Estate Group onboard," said Judy Rudat, Virginia/DC senior vice president for the Mid-Atlantic region. "This dynamic group of agents brings an impressive track record of successfully managing and growing their business, and we are here to support them in their mission to grow their business."
Under Cormier's leadership, the Tania Ivey Real Estate Group has achieved remarkable results, consistently appearing on the list of top producers in the Washington metro region. In addition to providing world-class service to home buyers and sellers, Cormier is also an expert in probate and taxes, and is one of a handful of real estate professionals who holds specialty certifications in real estate divorce, seniors and luxury homes. The team's client roster includes some of the area's largest corporate and government entities, plus a number of professional athletes whom they assisted with relocation needs.
"We are so pleased to be affiliated with the Berkshire Hathaway brand, which stands for a commitment to excellence" said Cormier. "It is very much aligned with our philosophy, and we are looking forward to our partnership for many years to come."
The Tania Ivey Real Estate Group is comprised of real estate professionals Cormier, Tania Ivey and Epi Newcomb. They can be reached at 703-445-3550. Visit their website at http://www.WeFind.Property to find out more about the team and to view their listings.
About the company
Berkshire Hathaway HomeServices PenFed Realty (http://www.penfedrealty.com) is a full-service real estate company with an annual sales volume of $4.3 billion. The company has 1,800 agents and more than 50 offices, providing complete real estate services nationwide. PenFed Realty is a wholly-owned subsidiary of PenFed Credit Union, a financial institution with more than $23.6 billion in assets and more than 1.6 million members worldwide. PenFed Realty is a member of the Berkshire Hathaway HomeServices brokerage network, operated by HSF Affiliates LLC. We are proud to be an equal employment opportunity employer. Equal Housing Opportunity.