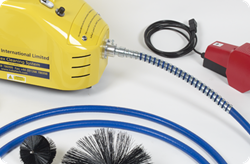 By removing all fouling from any tube type, without damage and without the need for fumigants, the patented system has allowed Rotaflex to innovate in industries which had previously remained heavily reliant on chemicals and pull-through brushes
ESSEX, England (PRWEB UK) 4 April 2018
The unique Rotaflex mill spout cleaning system is shown in action in a new video case study, filmed at Essex-based master miller Marriage's. Now, the patented industrial cleaning system will be available to the food processing, beverage production brewing and distillery industries.
Rotaflex was developed by tube maintenance experts within parent company Tube Tech to meet the precise specification required by the milling industry. By removing fouling from all tube types, without damage and without the need for fumigants, the patented system has allowed Rotaflex to innovate in industries which had previously remained heavily reliant on chemicals and pull-through brushes.
Having established its position as a global leader in mill spout cleaning, the patented Rotaflex system will now offer the same unrivalled hygiene levels, without chemicals and fumigants, to industries directly involved in the production of food and beverages.
Mike Watson, CEO of Tube Tech International said, "We are excited to take Rotaflex into further markets in which hygiene and performance is paramount. Rotaflex has already proven itself to be the most cost effective cleaning product available in the milling industry, and its ability to provide an unrivalled level of industrial cleaning without chemicals and fumigants makes the food and beverage production industries the obvious next step."
"Not only does Rotaflex offer optimum hygiene levels, the system removes the possibility of chemical residues that have the potential to affect the taste and odour of end product. Plus, as a one-man operation which is easy-to-use, in-situ and in-house, Rotaflex is a solution which creates cost benefits for any industry."
Find out more at http://www.rotaflex.com
About Rotaflex
Rotaflex is designed and manufactured by one of the world's most innovative industrial cleaning specialists, Tube Tech International Ltd, and is used by mills in over 60 countries worldwide.
Tube Tech International is the global leader in research-led, high-tech cleaning and inspection services, constantly investing in and developing tried and tested, step change methods to solve heavy industries' most difficult cleaning challenges.