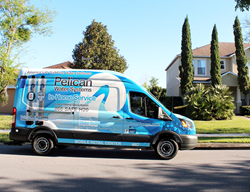 DELAND, Fla. (PRWEB) April 04, 2018
Following the implementation of In-Home services throughout Central Florida Pelican Water is thrilled to announce an expansion to the greater Tampa Bay Area in order to better serve local families with their water filtration needs. Homeowners in Tampa, St. Petersburg, Clearwater, and the surrounding areas will be able to schedule a free in-home consultation with Pelican Water experts to review our inventory and make the best choice for their home.
Our trained consultants can now schedule consultations for any Tampa or St. Petersburg resident who is interested in outfitting their home with some of the highest-rated water filtration products on the market. The Mobile Retail Centers are equipped with a mobile water test station so our professionals can quickly determine the type of filter needed to improve the water quality of each individual home. Once a homeowner selects a filter, softener, or UV combination system our experts handle the sizing, delivery and installation processes so new systems can be operational as quickly as possible.
The Tampa Bay Area is the latest region where we are able to offer our in-home services. Water tests by third parties in the area have tested for unsafe levels of copper, disinfection by-products, lead, coliform, and organic contaminants. These issues are compounded by the lack of groundwater in the area, which makes it difficult for water utilities to perform routine water tests for all local citizens.
Any residents in Tampa concerned about the algae-related toxins or high levels of coliform found in Florida's water systems can save time and gain peace of mind by opting for an in-home visit from a Pelican Water consultant. All installation services provided by Pelican Water are backed by a 90-day labor guarantee. We work with each customer to provide in-depth services that don't interfere with their daily schedule. Benefits of in-home service include factory direct pricing, a fixed installation price, and a quick installation for minimal inconvenience. Concerned homeowners in Tampa, St. Petersburg, and nearby areas can make an appointment today to learn more.
About Pelican Water Systems
PelicanWater.com is the official, factory-direct retail website for Pelican Water Systems, providing professional knowledge and leading technologies in whole house water filtration, countertop water filtration systems, UV bacteria disinfection systems, and salt-free water softening and conditioning systems. Pelican Water products use cutting-edge technology to enable customers to go green by eliminating wasteful and harmful salt brine discharge that is polluting our valuable fresh water resources. Pelican Water is also proud to offer under-counter reverse osmosis systems that are small enough for practical use in RVs and marine vessels. Pelican Water continues to be the global market leader in salt-free water softening systems. For more information about Pelican Water Systems, visit PelicanWater.com.