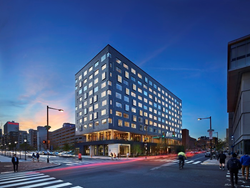 Choosing precast satisfied the design and performance requirements of the project and minimized expensive field labor working on the tight urban site.
LANCASTER, Pa. (PRWEB) April 12, 2018
The Precast/Prestressed Concrete Institute (PCI) recently announced the winners of their 2018 Design Awards. The program, in its 55th year, recognized 21 projects with awards of excellence in design. Over 100 project entries from across the U.S. were submitted for award consideration.
The Study at University City, a 10-story luxury hotel in Philadelphia, PA received the 2018 PCI Design Award for Best Hotel/Motel Building. Universal Concrete Products, a PCI Mid-Atlantic member, was the precast concrete producer and precast concrete specialty engineer for the project.
PROJECT OVERVIEW
The Study at University City is located at the intersection of two world-class universities in the heart of Philadelphia. It features full-service lodging as well as study accommodations, meeting venues, a fitness center and restaurant/lounge.
"The owner of the project envisioned a high-quality, robust structure that reflected the traditions of the buildings in Philadelphia," says Jeff Goldstein, principal at DIGSAU, the Philadelphia-based architecture firm.
The challenge for this project was to erect this sophisticated piece of architecture on a tight jobsite, in a busy urban environment, and on a short schedule.
Initially, brick emerged as the most appropriate material to convey the owner's design aesthetic. However, a fully brick structure would have been time- and cost-intensive to construct.
Instead, the designers went with precast concrete, designing panels faced with thin brick to provide the look and feel of brick in a more cost-effective, time-sensitive package.
"Choosing precast satisfied the design and performance requirements of the project and minimized expensive field labor working on the tight urban site," Goldstein says.
The precast concrete panels are also a lighter envelope solution than traditional brick masonry, which was important for managing the vertical and lateral loads imposed on a cast-in-place concrete structural frame.
PRECAST SOLUTION
The hotel's final design features a façade composed of solid precast concrete panels containing ironspot thin brick in a three-dimensional garden-wall bond pattern. This is a popular architectural theme in many of Philadelphia's historic buildings.
Universal Concrete Products used bricks of multiple thicknesses, which required custom formliners to produce a highly textured and stealthily repetitive design.
"The ability to generate a unique, three-dimensional brick bond allowed the precast wall assembly to take on a crafted, hand-made quality that greatly contributes to the building's presence and character," Goldstein says.
The panels were stacked in an offset pattern at corners, and custom brick shapes were used to wrap the exposed jambs and soffits of the panels. Metal trim was incorporated along select vertical joints to obscure the stacked arrangement of the panels. High-density mineral wool insulation with foil facing was incorporated into the panels to provide a continuous thermal barrier behind the panels and across joints.
"We really got excited about the opportunity to work within the tried-and-true methods of fabricating precast panels," Goldstein says.
The use of cast thin-brick precast concrete panels balanced the contextual references and provided a cost-effective façade solution.
"It gave us a way to create something that reflected the hands of the skilled craftspeople who contributed to their creation."
Additional details and photos for this award-winning project are available on the PCI website.
PROJECT AT-A-GLANCE
Owner: Hospitality 3 (New York, NY)
Precast Concrete Producer & Precast Concrete Specialty Engineer: Universal Concrete Products (Stowe, PA)
Architect: DIGSAU (Philadelphia, PA)
Engineer of Record: DeSimone Consulting Engineers (New Haven, CT)
General Contractor: P. Agnes (Philadelphia, PA)
PCI-Certified Erector: Jemco Erectors (Shamong, NJ)
Project Cost: $50 million
Project Size: 149,000 sq. ft.
Award: 2018 PCI Design Award – Best Hotel/Motel Building
ABOUT PCI MID-ATLANTIC
PCI Mid-Atlantic, a chapter of the Precast/Prestressed Concrete Institute (PCI), is a professional marketing organization committed to the growth and greater profitability of the Precast Industry in the Mid-Atlantic region. It is comprised of prestressed/precast producer member firms located throughout the Mid-Atlantic States, including New York, New Jersey, Pennsylvania, Delaware, Maryland and Virginia. PCI Mid-Atlantic also has over 50 associate member companies that produce a variety of concrete industry related products. For more information, visit http://www.pci-ma.org.