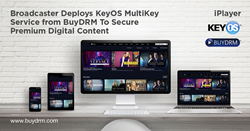 Working with BuyDRM, the BBC is able to deploy a DRM solution that supports all of the popular consumer playback platforms and business models. - Brian Baker, Head of Widevine Business at Google
AUSTIN, Texas (PRWEB) April 05, 2018
BuyDRM™, a pioneer in Digital Rights Management ("DRM") and Content Security Services, today announced that the UK's BBC has deployed the KeyOS MultiKey DRM Service as part of their BBC iPlayer App. As part of BuyDRM's "Widevine Everywhere" program, this new offering powers the BBC iPlayer app which allows users to download or view offline content on MacOS and Windows clients.
Using KeyOS MultiKey Service, BBC iPlayer delivers DASH content using Google's Widevine DRM which is supported across a variety of popular consumer platforms. The broadcaster also uses the KeyOS MultiPlay SDKs to deliver DRM licenses on mobile devices for protected playback of premium content. This multi-DRM approach furthers the BBC iPlayer brand as a leading streaming service to address UK's strong demand for premium content when and where the customer sees fit.
"BuyDRM takes great pride in powering one of the worlds' most well-known and consumed brands" said BuyDRM CEO and Founder, Christopher Levy. "We have innovated a variety of solutions to further the reach of the BBC iPlayer and this addition of Google's Widevine DRM reinforces this effort."
"Google's Widevine technology is powering many of the most successful OTT platforms around the world" said Brian Baker, Head of Widevine Business at Google. "Working with BuyDRM, the BBC is able to deploy a DRM solution that supports all of the popular consumer playback platforms and business models."
ABOUT BUYDRM
BuyDRM™ is a leading provider of Digital Rights Management and Content Security Services for the entertainment, enterprise, transportation and education industries with customers spanning the globe. With 17 years of market-leading experience implementing commercial DRM solutions and media technologies, BuyDRM has amassed substantial success stories for many of today's largest brands.
OTT and IPTV operators, television networks, movie studios, MVPDs, telcos and premium content distributors use the BuyDRM award-winning KeyOS multi-DRM Platform to provide robust content security for their IP video offerings to a variety of connected and disconnected devices. BuyDRM customers include BBC iPlayer and BBC iPlayer Radio, BBC Worldwide, BBC TVE Singapore, Sony Pictures Entertainment, Sony Crackle, Sony Pictures Television Networks, Sony DADC, fuboTV, Sinclair Broadcast Group, Margo Networks, Warner Brothers, Showtime Networks, Deluxe, Vubiquity, Cinedigm, SONIFI Solutions, ABC Australia, Limelight Networks, AMC Networks, SingTel, Telus, and Bell Media.
For more information please visit http://www.buydrm.com .
BuyDRM, KeyOS, the BuyDRM logo, the KeyOS logo, MultiKey, MultiPlay, MultiPass and MultiPack are trademarks or registered trademarks of BuyDRM, Inc. The names and logos of other companies and products mentioned herein may be the trademarks of their respective owners. ©2018 BuyDRM, Inc.